10 Things to do in Mombasa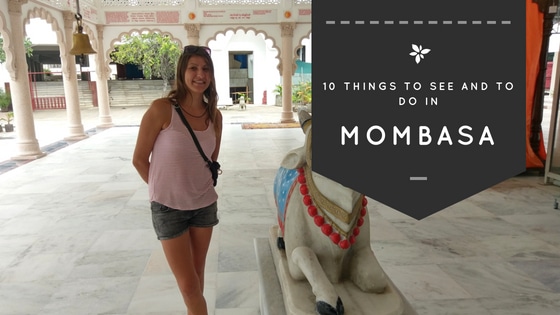 Mombasa is a city on the eastern coast of Kenya and the second largest city in the country. Back in the day Mombasa had a big influence as a trading centre on the Indian Ocean. When I travelled to Kenya I made a quick stopover to explore the city that has some of the country's most beautiful beaches. To be honest, the city itself doesn´t have much to offer but its' worth spending at least one day in it. I created a list of things to do in Mombasa to explore this part of Kenyan culture.
1. Stroll through the streets of Old Town Mombasa
The 72 hectares of Old Town Mombasa hosts a collection of historical buildings. What I liked most are the beautifully carved doors. You can even find an UNESCO World Heritage Site in Mombasa – Fort Jesus was designed and built by the Portuguese to protect the Port of Mombasa.
My recommendation:
Don´t miss out on having some yummy local food in one of the following restaurants:
Forodhani
Island Dishes
Barka restaurant
Tarboush
Here you are going to find my favorite Kenyan dishes, drinks and snacks.
2. Visit Haller Park
Formerly known as Bamburi Nature Trail Park Mombasa, Haller Park is a Natural Reserve and Wildlife Park on the coastal line of Mombasa. It is home for a variety of animal and plant species.
3. Chill at Nyali Beach 
Nyali Beach is known for its long white sand beaches and turquoise water. It is a perfect spot for relaxation, water sports, sunbathing and picknicking.
Are you planning on traveling Africa soon?

Find my recommendation in tours 

here

:

Don´t miss out on securing your 10 % discount!

Please note: I only recommend tours that fit my travel philosophy, that are run by people I know or that I have done myself. 
4. Take a picture of the Elephant Tusks
The Elephant Tusks are probably Mombasa's most famous sight. Located on Moi Avenue the giant aluminium tusks were commissioned to honour the visit of Princess Margaret, daughter of King George VI and Queen Elizabeth. By that time Kenya was under British rule.
Don´t forget to pin my post:
5. Visit Marine National Park & Reserve
This Marine National Park is one of the best spots for snorkelling and diving in Mombasa, The coral reef is home to a colourful variety of marine species. Apart from that, the park is perfect for sunbathing on the pristine beaches like Nyali Beach or Bamburi Beach.
6. Check out a Masai Market
One of the must dos while in Mombasa is visiting a Masai Market. Indulge yourself with some beautiful handicraft, clothes, footwear and souvenirs. I always wanted a Masai blanket and I finally got one in Mombasa. There are different markets happening all over the city. Simply find out from the place you are staying where to find the closest one.
7. Visit Fort Jesus
Fort Jesus is located in Old Town Mombasa and it is one of the UNESCO World Heritage Sites. It was designed and built by the Portuguese to protect the Port of Mombasa. Guided tours in Fort Jesus are available.
8. Visit "Mamba Village"
"Mamba Village" is an amusement park and East Africa's largest crocodile farm.
9. Visit "Akamba Handicraft"
"Akamba Handicraft" is an organization producing high quality animal woodcarving.
10. Take a Matatu or a Tuk Tuk to see Mombasa
Matatus (minibus) and Tuk Tuks are forms of public transportation in Kenya. A ride with a private Tuk Tuk driver or in a Matatu is super fun and perfect to see the city as well as to get in touch with locals.
My advice:
Only use Matatus during the day!
Where to stay in Mombasa:
I stayed at the following backpackers in Mombasa: Tuliahouse Backpackers. If backpacking is not your thing, here you can find the best hotel deals:
Don´t forget to check out my video about Mombasa:
Close to Mombasa you will find Diani Beach, Africas Leading Beach Destinations since 2014. Check out the post of my blogger friends Dnomadz about this beautiful piece of earth.
Have you been to Mombasa? What did you do?
Would you like to read and see more about my Africa trips? Here we go!
[Disclaimer: This blog post contains some affiliate links. Once you purchase something, I may earn a small commission at no extra cost to you. This tiny commission will help support my blog hosting and other maintenance costs. All my opinions are my own and were not influenced in any way. Thank you!]