Ultimate Guide: Leipzig Germany
My Leipzig Guide is going to provide you with all the information you need for your trip to Leipzig.
Which cities have you been to in Germany?
Which cities are you planning to visit in Germany?
The most common replies to these questions of mine are:
Berlin

Hamburg

Munich

Frankfurt
What about Leipzig Germany? For as long as I have been traveling the world I haven't met many foreigners who have visited Leipzig, a city that is sort of like my hometown. One reason is that many foreigners have never even heard of Leipzig. For those people who have heard of this lively city, most underestimate it. I really think it is worth putting the largest city of Saxonia (600 000 inhabitants) on your bucket list while traveling Germany. Most of my close friends live in Leipzig and I have literally spent half of my life there as I grew up about 45 minutes away from Leipzig. When it comes to shopping, leisure and partying most of the time we would go to Leipzig.  That´s why I feel so connected to the city and why I know the cities hotspots off the beaten tracks quite well. 
Here I list the reasons why I love Leipzig so much:
Leipzig´s Wild West
Neighborhood Plagwitz/ Schleußig
Art
One of the up and coming neighborhood in Leipzig is the neighborhood Plagwitz and Schleußig, an area made up of old industrial buildings. These buildings were renovated and transformed into work and exhibition spaces, a playground for young creatives. What makes it really special is that the old charm of the industrial architecture has been maintained. One of the best examples is "Alte Spinnerei Leipzig" in Plagwitz.
The old factory complex "Alte Spinnerei", which used to be an Old Cotton Factory back in the day is now home to more than 20 galleries. It is also a hotspot for art, craft, architecture and design in Leipzig. In general, Leipzig has turned into a playground for young creatives and it is a paradise for art lovers.
Besides "Alte Spinnerei" in Plagwitz, these are other really good examples of where art is hosted in an astonishingly impressive location:
Kulturfabrik
Kunstkraftwerk
Kunstraum
Tapetenwerk Leipzig
Werk II
Party/JOL/Food
The main street of Plagwitz/Schleußig and one of the upcoming streets in Leipzig is Karl-Heine Street. This street is home to lots of local pubs, bars, trendy shops and restaurants.
Here are my recommendations of where to party, dine and meet locals in Plagwitz and Schleußig:
Elipamanoke – electronic music club

Täubchental – event location

Felsenkeller – event location/ restaurant
Besser Leben – bar

Kartoffelfräulein – restaurant

Kaiserbad – event location/ restaurant
Did you know that in Germany you are allowed to drink on the street? What Leipzig is also known for is the "Spätis". These are little shops that are open until late and that sell all sort of alcoholic beverages.  A spectacular one is the "Späti" in Karl-Heine-Strasse next to "Westwerk". It used to be a construction container. The owner even added a little chilling area with tables and chairs to make sure you get the most out of your "Späti" experience.
Relaxation
Besides Jol and Art Plagwitz and Schleußig have much more to offer. "Clara-Zetkin-Park", which is the green lung of Leipzig with its trendy "Sachsenbrücke" (a meeting point) is located in that neighborhood as well. If you enjoy chilling, relaxing, singing and mingling with "Leipziger" – this is the perfect spot for you.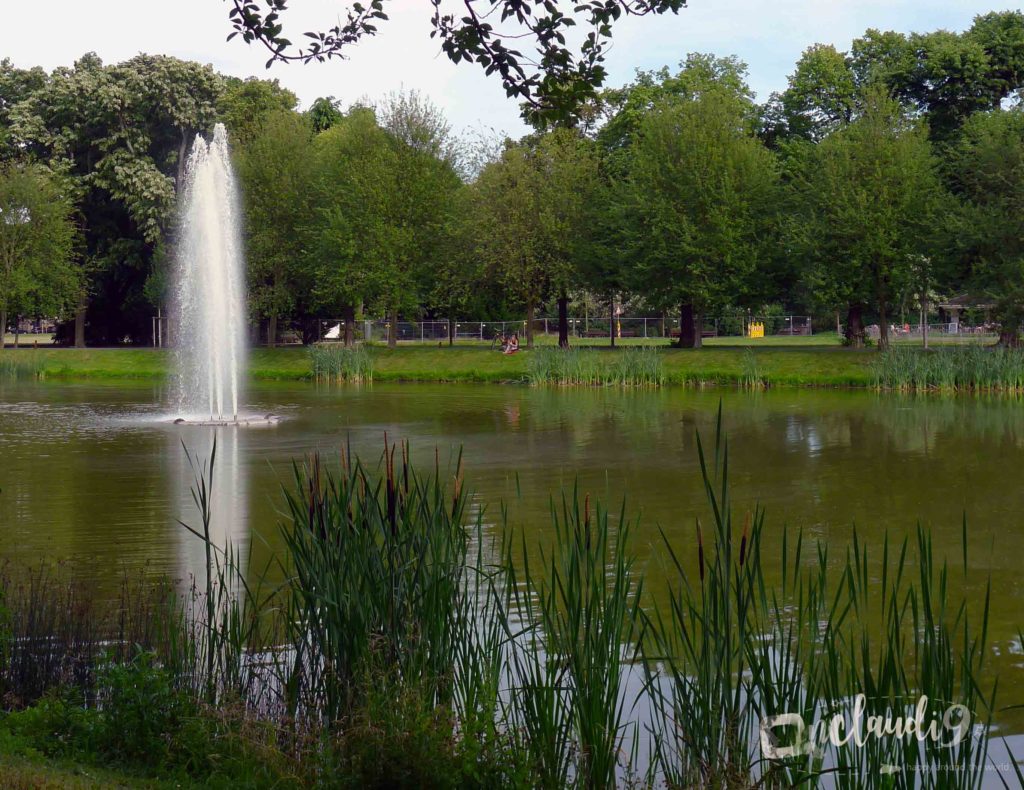 You might also enjoy reading about my Africa Travels: 
Calling all beach lovers! Here you can find a list of my favourite beaches in Malawi Africa....

  Would you like to dicover South Africa off the beaten track? Come and explore the KwaZulu Natal Province with me....
Leipzig´s Alternative South
Neighbourhood Südvorstadt/Connewitz
The most famous street of Südvorstadt, "Karl Liebknecht Strasse" or "Karli" as locals refer to it, pulls thousands of locals into their bars and event locations every weekend. Karli stretches south down to Connewitz and connects both neighborhoods. Twice a year the street comes alive with "Karli Beben", which is a huge street party where all the locations offer a variety of art, culture, markets and shows. Another big event you mustn't miss when in Leipzig is "Honkytonk" which adapts the same idea for the entire city.
Here are my recommendations of where to party,
dine and meet locals in Connewitz and Südvorstadt:
Gaststätte Kollektiv – a restaurant where you can experience the real East German Flair

Killi Willy – traditional Irish Pub

Löffelfamilie, Cafe Staubsauger – bars

Distillery – oldest electronic music club in Germany
IFZ, Club Velvet – clubs

Conne Island; Feinkost – event locations

Zum Wilden Heinz – restaurant
Hafenkneipe Leipzig – bar and Biergarten
My recommendation when it comes to shot's: order a '"Gisela".
Leipzig New Lakeland (Neuseenland)
The Venetian side of Leipzig
Do you know that Leipzig Germany has some parallels to Venice? The entire city is covered by a network of channels and rivers, which are connected to a huge lake area in the south.
The mining industry used to escalate coal in the area of Leipzig. What they left were many exploration cavitations. As a result of renaturalization, you can find a beautiful Lakeland area (about 22 lakes) connected through many channels and rivers. The water quality is of the highest purity. The variety of leisure and relaxation activities is endless. Especially in summertime, many locals spend their free time doing outdoor activities and water sports on the lakes shore. Going on a boat tour, relaxing on sandy beaches or dancing off your feet at any one of the huge festivals are more reason to spend the day or night at the lakes.
These are my favorite spots/events on the Venetian Side of Leipzig:
Kulkwitzer See (Lake Kulkwitz has a waterski and wakeboard lift)

Schladitzer Bucht (Schladitzer Bay)
Störmthaler See: Lake Störmthaler which is known for its floating church and the Festival "Highfield"
Cospudener See (Lake Cospuden): Hacienda Beach Club (event and beach location)

Marina Lindenau: Westhafen (summer open air location)
Lake Groitzsch: Festival Zilp Zalp
Lake Großstolpen: Festival Summer Inspiration

TH!nK?

 Festival (one of the biggest day techno/ electronic festival in Middle Germany taking place on the shores of Lake Cospuden)
Do you already follow me on Instagram?
Leipzig Soccer – Leipzig Red Bull
Another reason why people come to Leipzig for is the famous soccer team RB Leipzig FC. Watching a game in the Red Bull Arena Leipzig is a must when visiting the city. Here you can check for tickets.
You might also enjoy reading more Travel Guides: 
Festivals in Leipzig
Leipzig und the surrounding hosts many great festival. Here is my list of the most famous Leipzig Festivals:
Bach Festival
Wave & Gotik Festival
Highfield Festival

TH!nK?

 Festival

Klassik Airleben
Honky Tonk
Leipzig Markets
Christmas Market
Leipzig offers a variety of markets for every taste. The most famous market of Leipzig is the Leipzig Christmas Market. This market happens every year starting at the end of November. You can of course also find smaller Chrismas Markets in the different neighbourhood for instance:  at Werk II, in Gohlis Palace…
Flea Markets in Leipzig
Calling all treasure hunters: Leipzig offers great shopping opportunities for you.:-)
Here I list my favourite flea markets in Leipzig:
Night Flea Market Agra
Lady Fashion Flea Market Agra
Kiezflohmarkt Plagwith
Anti- und Gebrauchtwarenmarkt Agra
Kids Flea Market
When it comes to food and drinks
Here you can find my recommendations for local food and drinks:
Leipziger Lerche: a pastry from Leipzig, you can find it in almost every bakery in Leipzig
Lipz: lemonade made in Leipzig in different flavors

Gose Brau: a beer that has been brewed in Leipzig for ages (my recommendation where to try it: 

Gosenschenke – also is known for its popular Biergarten)
Don´t forget to pin my post:
Activities in Leipzig
Are you planning to visit Leipzig? Then don´t waste time and book your trips here:
How to get to Leipzig Germany
Leipzig is located in the Bundesland Sachsen, in the eastern part of Germany. There are many ways of how to get to Leipzig; by train, by bus, by car or even by plane as Leipzig hosts the biggest airport in Middle Germany.
The easiest way to find and book your bus, flight, train or carpool is by using from AtoB:
How to get around in Leipzig Germany
There are 2 ways locals usually get around in Leipzig:
by Bicycle
Leipzig is one of the most bicycle-friendly cities I have ever come across. You can see locals riding bicycles everywhere. "Leipziger" not only use their bikes for leisure. In fact, they also use their bike for daily transportation. If you come to Leipzig for a holiday you can also rent a bike with nextbike.de.
Take note to always observe and make way for bike riders especially when driving a car. 
by Tram
Leipzig has a well-developed network of trams, which is used by locals a lot. Here you can download the easygo app from Leipziger Verkehrsbetriebe to get around the city. 
---
---
Accommodation in Leipzig Germany – Where to stay in Leipzig
Are you looking for a place to stay in Leipzig? Hostelworld offers really good deals – check it out:
You still need more convincing that Leipzig Germany is worth a visit?
Then check out my video here: 
As usual, all opinions are my own!
Have you been to Leipzig Germany? What did you love the most? Let me know in the comments.
You might also enjoy reading more about my Europe Trips: 
Join me and my family on our 10-day Balkan Road Trip visiting Montenegro, Bosnia Herzegovina and Croatia....

Quarkkeulchen is one of my favourite German food. In this post I am going to share my super yummy Quarkkeulchen recipe with you....
[Disclaimer: This blog post contains some affiliate links. Once you purchase something, I may earn a small commission at no extra cost to you. This tiny commission will help support my blog hosting and other maintenance costs. All my opinions are my own and were not influenced in any way. Thank you!]