Things to do in Nairobi & Travel Tips
This Naiobi Guide lists my favourite things to do in Nairobi, provied tips on the city and will show how you can spend one day.
During my 10-day road trip in Kenya, I spent 4 nights in Nairobi. Most people only stay in Nairobi for a stopover without actually exploring the city. In fact, it is worth it to spend 3 – 4 days in Nairobi as you can also explore a lot of the surrounding areas. With this post I am going to give you some inside ideas of things to do in Nairobi and examples of how I spent my days in Nairobi city.
HERE YOU WILL FIND RELATED CONTENT FOR YOUR KENIA TRIP:
Things to do in Nairobi – my favourite activities:
Nairobi National Park
I started off my day at 6 a.m. My friend Kevin, who runs a tour company in Nairobi, took me to Nairobi National Park, which is the only National Park in the world that is located in a city. Besides that, the Nairobi National Park is the oldest National Park in Kenya and home to 4 out of the BIG 5. We spent about 3 hours in the park and Kevin managed to find Lions, lots of Buffalo's and Rhinos. The only animal that hid that day was the Leopard. Apart from that, we saw Giraffes, Zebras and Wildebeest- the park is host to 100 mammal species.
What I found super impressive was having the skyline of a well-developed city in the background while having wild animals in front of your camera.
Nairobi National Park Entrance fee:
43 US$ adult (non-resident) + vehicle fee
22 US$ child (non-resident) + vehicle fee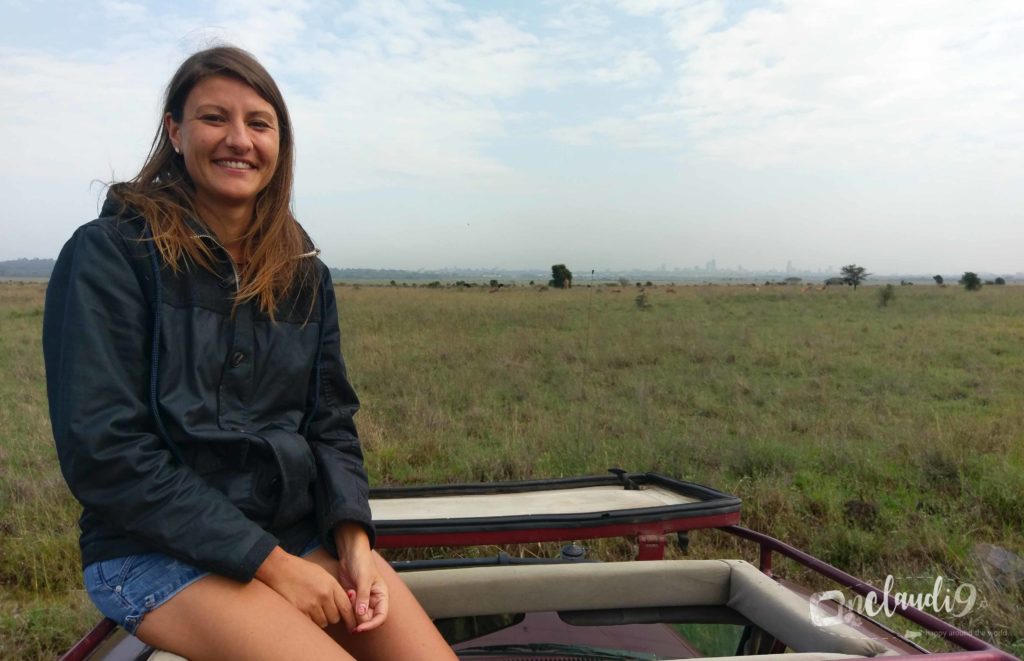 David Sheldricks Elephant Orphanage
Our next stop at the Elephant Orphanage Centre was definitely heart-warming to say the least. This center takes care of baby elephants that are orphaned due to poaching. 
All the little guys and girls can be seen every day between 11. a.m. and 12 p.m. (noon). While watching the elephants taking a mud bath and getting bottle fed, one of the keepers explained the different elephants and their stories. If you would like to visit them there is a donation entrance fee of 500 Kenyan Schillings but it´s worth it and for a good cause.
Don´t forget to pin my post: 
Giraffe Center Nairobi
The Giraffe Center was founded in 1979 as a breeding centre to save the species of the Rothschild Giraffe. 
It also became well known as an education center for Kenyan school children and nowadays it is a famous tourist attraction. It's also super fun getting to feed the giraffes. They stick out their long wet tongue to eat straight out of your hands. Definitely worth a visit.
Giraffe Center Entrance fee for non-resident adults is approx. 10 US$.
You might also enjoy reading these Travel Guides:
Local Cuisine in Nairobi
What is a day trip without a taste of the local cuisine? We finished off our day at a local restaurant called "Mangrove Restaurant" in the South B neighborhood where I had some super yummy food.
The Kenyan cuisine is a mixture of different cultures. I tasted Mkate Wa Nyama (Samosa pastry filled with minced meat) and Mishkaki Chicken Kebab. More of my favorite Kenyan dishes and local drinks you can find in this post.
More things to do in Nairobi

|

 Kenya:
Visit a Masai Market
Go on a slum tour in Kibera
Visit Karen Blixen Museum
Go for a hike at Ngong Hills
Tours in Nairobi:
If you don´t have a local that can show you around the city, I recommend booking a tour in Nairobi rather than exploring the city yourself.
Here you can book your tours for Nairobi:
Where to stay in Nairobi

|

 Kenya:
I stayed with a friend in Nairobi. A backpacker in Nairobi that I can honestly recommend is Milimani Backpackers*. If you check Booking.com you will notice that Nairobi has many expensive hotels. Budget-accommodation in Nairobi is really rare. That´s why Homestays in Nairobi became a big thing. Many locals renting out rooms. You can find them on Booking.com. Of course you can also check with Airbnb or Couchsurfing. I would like to encourage you to stay with a local as it is the best way of getting to know the culture, the country as well as the people. Moreover locals can give you great tips on things to do and see as well as on safety in Nairobi. This brings me to my next piece of advice.
Is Nairobi safe?
I already mentioned, I spent most of my time with a local. Hanging out with locals is the best and safest way for you to explore a city. Rent an Airbnb, book a Homestay or Couchsurf and benefit from the knowledge of your hosts. Ask them for advice for whatever you are planning on doing. If you stay in a hotel, ask the staff of the hotel.
In Nairobi it is like everywhere in the world: use common sense, don´t display valuables and leave the important stuff at the hotel. Ask your host or the hotel you are staying which areas to safely explore, which areas to avoid and how to get around.
I felt very safe in Nairobi, but of course there are also neighborhoods that are not safe. You would like to read more advice on Kenya? Here is my Kenya Guide of everything you need to know before traveling Kenya.
What are your favorite things to do in Nairobi? Let me know in the comments!
You might also enjoy reading about my South Africa Travels:
  Would you like to dicover South Africa off the beaten track? Come and explore the KwaZulu Natal Province with me....

Don´t forget to check out the video of my day trip in Nairobi:
You might also enjoy reading about my Europe Travels:
Join me and my family on our 10-day Balkan Road Trip visiting Montenegro, Bosnia Herzegovina and Croatia....

Quarkkeulchen is one of my favourite German food. In this post I am going to share my super yummy Quarkkeulchen recipe with you....
[Disclaimer: This blog post contains some affiliate links. Once you purchase something, I may earn a small commission at no extra cost to you. This tiny commission will help support my blog hosting and other maintenance costs. All my opinions are my own and were not influenced in any way. Thank you!]