Traditional Kenyan Food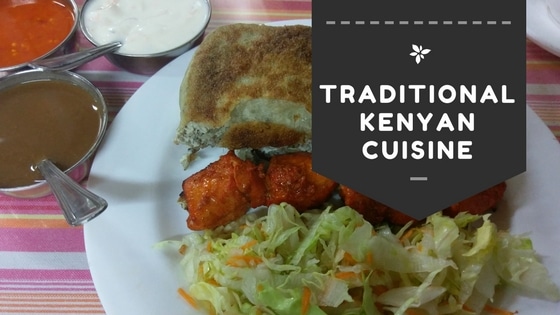 The Traditional Kenyan Food is super yummy. In this post I will be sharing my favourite Kenyan dishes with you.
An important part of my travel experience is the traditional food of the country I am traveling to. Trying as many of the local dishes as possible is always my goal. When it comes to food you will find many similarities between the African countries. You can find sort of the same snacks, dishes or sides that slightly differ with their names and ways of preparation. Even so, every country has its own flavor and taste. The Kenyan food is a blend of the Portuguese, Indian, Arabic and local cuisines and is some of the richest in variety I have come across! I put together a list of different dishes, snacks, and drinks that are common to the Kenyan cuisine as well as the ones I found to be super yummy.
Traditional African Cuisine:
1. Chicken Biryani and rice
2. Chapati(a flat bread) with beans in coconut sauce 
Do you already follow me on Instagram?
3. Mkate Wa Nyama and Mishkaki Chicken Kebab
Mkate Wa Nyama is Samosa pastry filled with minced meat.

4. Mukimo and Nyama Choma 
Nyama Choma is one of the most popular Kenyan food. Mukimo is mashed potatoes with green vegetables. Nyama Choma is Kenyan grilled meat.
5. Aliya, Osuga, Kachumbari and Ugali 
This is roasted beef cooked in sauce, served with vegetables, cornmeal porridge and a tomato/onion salad.
When it comes to drinks, this is what you have to try:
Tamarind juice

Mnazi (coconut wine)

Tea Masala (spiced tea)

Tusker Beer
Dawa, a Kenyan cocktail made from vodka, lime juice, and honey
When it comes to snacks, this is what you have to try:
Kashata (coconut candy)
Mabuyu (baobab tree fruit with spices)
Mandazi
Samosas
Don´t forget to pin my post!
Have you had Kenyan food before? What is your favourite cuisine? Let me know in the comments.
Would you like to read and see more about my Africa trips? Here we go!
[Disclaimer: This blog post contains some affiliate links. Purchasing something may earn me a small commission at no extra cost to you. This tiny commission will help support my blog hosting and other maintenance costs. All my opinions are my own and were not influenced in any way. Thank you!]