How I survived in Malawi for 2 days with just $1! From bathing in Lake Malawi to sleeping in the great outdoors.
Please note: This blog post is not a post about trying to travel on the cheap. Malawi is the poorest country in the world and before we even run out of money it was my friends and I that invited our Malawian friends for dinners, to my birthday party, we got them beers when we went out on the town, we supported the local business by buying their handcraft and also came back to Kande Beach with presents to say thank you for helping us out while we didn´t have money. So please don´t get me wrong. I just wanted to point out the generosity of the Malawians but it is not my intentions to motivate travelers to abuse the locals.
My story:
Recently, I found a post of a travel blogger about: How to travel Hawaii on $40 a day. That post reminded me on my trip to Malawi, where I survived with $1 for about 2 days. As this was an unique and unforgettable experience at the same time, I wanted to share my story with you.
With friends, I went on a 3 week road trip to Malawi. Our second last stop was Kande Beach, a village next to Lake Malawi. There was a couple of reasons that one friend and I didn´t have any money left. There was only one ATM nearby but it didn´t accept my credit card. My friends credit card was stolen that´s why we had to stay in Kande Beach right on the shores of Lake Malawi for 2 more nights. All of our friends were already gone to the next village so we couldn´t borrow any money. Money wise what the two of us had left was about $1 each.
We didn´t have any money for:
What would you do?
Honestly, 2 years ago I would have gone crazy. This time I was actually relaxed. Why? The answer is simple: I was in Malawi, "The Warm Heart of Africa". The uniqueness and warmness of those amazing people I had already experienced the previous weeks while traveling this beautiful country.
What we needed in Malawi to survive on $1:
An open minded personality
Making friends with locals
Lake Malawi
Water boreholes
What we did:
1. Accommodation
We didn´t have money for accommodation but we had a tent. Usually one put up a tent on the camping spot in a camp or lodge. Since we didn´t have money to pay the rate, we put up our tent on the beach of Lake Malawi for one night.
Don´t forget to pin my post:
The bush was our toilet, Lake Malawi was our shower and washing machine because this is the way the locals do it as well. Most of them do their washing and bathing on the shore of Lake Malawi.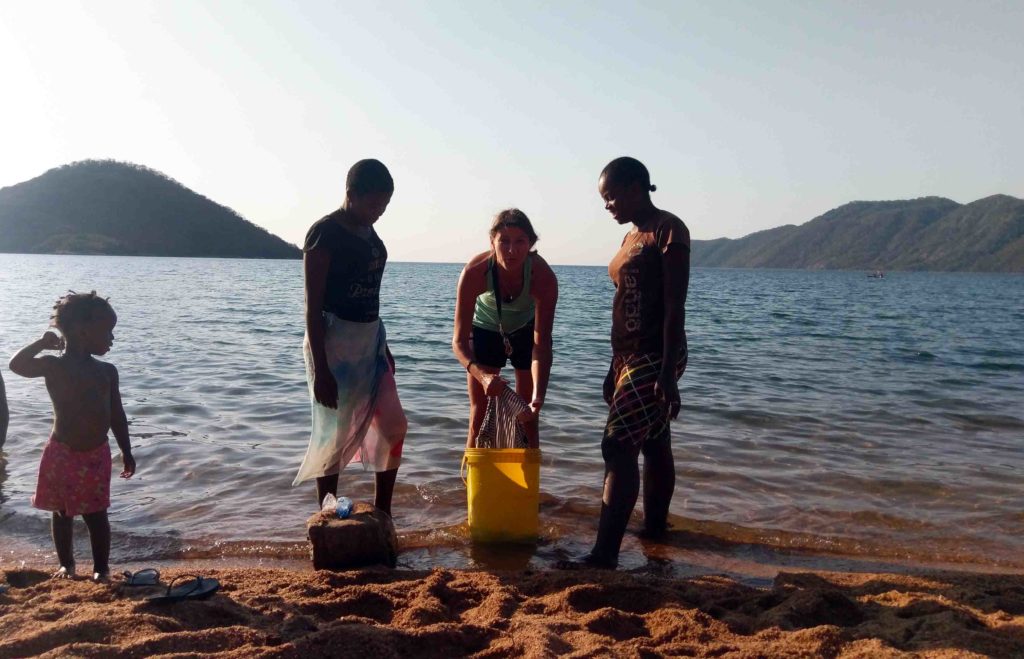 For the second night we got invited to stay at the house of a local that we made friends with in Kande Beach. I have never met more hospitable people than the Malawians. Staying with them was an authentic African experience and they gave us so much.
2. Drinking water
We got our water from the borehole, which they have lots in Malawi. The locals use this water for bathing, cooking and drinking. To be honest in the beginning I was a bit worried if the quality was good enough. I was a bit scared that it could cause stomach problems or severe illnesses but I didn´t have any problems at all. Back home I was even reading up on the quality of borehole water and realised that they actually launched an entire program to ensure the clean water supply in Malawi. It is a contribution to a sustainable development. Luckily, families no longer have to boil contaminated water, they save firewood and thereby prevent carbon emissions from being released.
3. Food
We made lots of friends in the small village of Kande Beach. We actually became sort of part of the community while we stayed there. The $1 my friend and I had left each, we used to invite our Malawian friends for dinner. We shared 3 plates of Nsima and Chambo. The upcoming 1 1/2 days our friends provided us with food in their homes.
Follow me on Instagram:
Our stay with our friends in Kande Beach and the fact that we didn´t have any money left made us realise even more why Malawi is called "The Warm Heart of Africa".
Besides that I learnt two lessons:
If you have nothing left don't stress, somehow it is going to work out.
You can camp everywhere.
With this post I would like to say thank you to our friends and the community of Kande Beach for their unbelievable hospitality. I also want to say thank you to our awesome friend Owen. Even though we didn´t know each other at all, he treated us like family and overwhelmed us with his generosity.
Would you like to read and see more about my Africa trips? Here we go!