Ultimate Guide to Malawi Africa – Part 1/3
Malawi is most famous for the massive lake that makes up most of the country, Lake Malawi. I was lucky enough to travel this beautiful countryside, making lifelong friends and priceless memories. Check out my time in Malawi and everything the Malawi country has to offer.
Me: I am traveling Malawi.
Most of my friends: What? Where?
Me: Malawi!
Most of my friends: Never heard of this country before! Where is it and what´s so special about Malawi?
Me: Malawi is in Southern Africa and it has the third biggest Lake in Africa, Lake Malawi.
Most of my friends: Ok a lake…
By now we reach the point where I have to show images of Lake Malawi in order to make them understand what this lake and country is all about and immediately everyone is on track.
Don´t forget to pin my post!
Why Malawi?
To be honest, when I first came to Africa I had not heard of Malawi either. Freddy, one of my colleagues who was born and raised in Malawi, started talking about his home country one day. I was amazed when he showed me pictures of Lake Malawi. This lake and my expectations that all the Malawian people are as friendly as Freddy were my main reasons why I wanted to explore one of the poorest countries in the world so badly.
The planning for my Malawi trip:
Ever since I started traveling the world I got worse and worse in making plans upfront. One week before my trip was supposed to start the only thing I had arranged so far was my flight to Lilongwe Malawi and my return flight from Lusaka Zambia. I wanted to cross the border to Zambia to travel there for a few days too but during my trip I decided to skip Zambia and to spend 3 weeks in Malawi only as I fell in love with the country and its people. The only research I did in advance was chatting to friends from Malawi and Zambia about public transport. Two years ago I would have gone crazy. This time I was sort of relaxed as over time I had learned that spontaneity is the best and at the end of the day everything will work out somehow. I was going to meet up with 3 friends (Mike from the Netherlands, Andi and another Andi from Germany) in Lilongwe, the capital of Malawi.
Those Germans:-)
Especially the Andi's were a bit concerned about my relaxed, new way of traveling. They were becoming increasingly stressed because of the research they had done before the trip, reading up the German government page about dos and don'ts in certain countries. In particular  the health and safetyadvice page had turned them into hypochondriacs, playing with their minds and frightened them more than they needed to be. Mostly they were afraid of Malaria, only realizing later that traveling Malawi in August is quite safe as there is no rain during this season, and mosquitoes are rare (my advice: not matter what season you travel – always use mosquito precaution). They even brought their own mosquito net although all of the hostels have nets. Besides that, they were really stressing about Bilharzia, a sickness that can be caused by a parasite existing in some parts of Lake Malawi. To add to the stress level, 2 days before their arrival we didn´t have a place to stay for the first night. This is why I arranged a dorm at "Mabuya Lodge" in Lilongwe for the first night. I also got us a rental car with my colleague's uncle from Malawi 1 day prior arrival. So you see things have a way of sorting themselves out.
---
---
Follow my ultimate 3 weeks road trip of traveling Malawi and get to know the culture, tradition and the people. Don´t forget to watch my Vlog, which you can find at the bottom of this post:
Day 1 – Lilongwe Malawi
I started my trip in Cape Town with a stopover in Johannesburg. Arriving at the airport I sorted my visa. More information regarding visas in Malawi you are going to find here. I exchanged a bit of money (Euros into Malawian Kwachas) and got myself a sim card, airtime, and Data from Airtel (5 EUR for a sim card, 1 GB Data and a bit of airtime). Owen, my colleague´s uncle, already waited for me at the airport with my rental car (1818 Africar). We drove off and he showed me around in the capital of Malawi. Honestly, in Lilongwe, there isn't much to see but it is interesting to see what the most developed city in Malawi looks like. After that, we went to eat some traditional food at Owen´s home. Nsima, a traditional side that is made from maize flour and water, goat stew and pees was my first encounter with the Malawian cuisine.  Exploring Lilongwe also meant exploring its nightlife. We picked up my friend Mike from The Netherlands who arrived by bus and ended up in a really cool local nightclub called "Chez Ntemba". Coming home late we found my 2 friends from Germany in our dorm. I had booked them an airport shuttle through our hostel, which was really convenient.
---
---
Day 2 – Cape Maclear Malawi
Hangover from the previous night we woke up early and made our way from Lilongwe down to Cape Maclear. Usually, public transportation in Malawi is working quite well. You find buses going anywhere, but what you need to bring is time – lots of time. That´s why we decided to get a rental car instead. Still, if you have your own car, you will have to cover big distances. The streets are good though, but for 300 km´s it easily takes you 5-6 hours including breaks. Anything else you need to know before traveling Malawi, you are going to find here. Our car was such a mess: 4 people, 4 bags, 4 more bag packs, food and a kiteboard had to fit in. It was impossible to feel comfortable during the ride. On our way, we stopped for some local street food. In every small village, you find kids frying sweet potatoes and selling grilled mice on a stick. Both we decided to try. Especially the mice on a stick was quite a new experience for us as none of us had seen that before. The locals call it "Mpani" and you eat everything starting from the tail. I took off the hair and tested a bit of the meat which was actually ok. It sort of taste like crispy chicken.
Do you already follow me on Instagram?
A traditional Malawian wedding
Later on, we accidentally stopped in a small village as it was full of people there. Curious as we are we got out of the car. Suddenly we drew all the attention to ourselves. Within 4 seconds we were surrounded by literally 1000 locals staring at us. Only now we realized that there was a wedding about to happen and we took away all the attention from the wedding couple.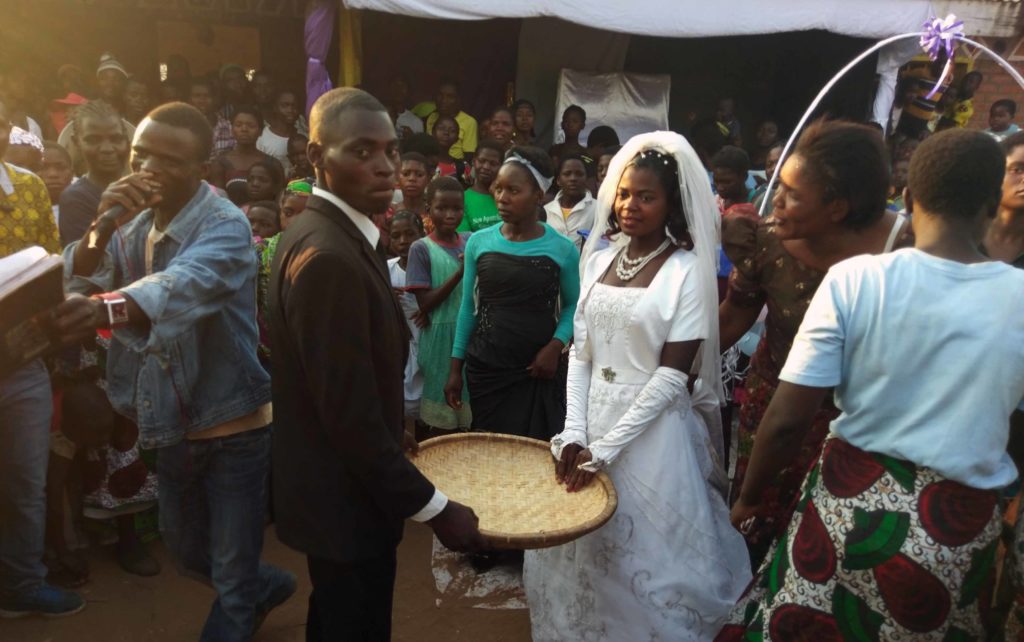 Suddenly we were pulled in front and introduced to them because they were about to collect money and because we were kind of crashing their wedding, the least we could do was to donate some money as well. Everyone started chatting to us and we took hundreds of pictures. As we were about to leave, a guy approached us asking to give him and his giraffe, made of wood, a lift to Cape Maclear. This situation was so unreal – we ended up taking him and his giraffe with us. Now the car was definitely overloaded. We laughed our ass off as the giraffe was too tall to fit in the car so the head stuck out of the window. Stopping for a sunset photo shoot with our wooden giraffe and new friends which spontaneously joined us for the shoot we eventually arrived at Cape Maclear, which is a peninsula with the most beautiful beaches in the south of Lake Malawi.
We picked a hostel that I had been checking out for quite a long time, as for me it seemed to be the most vibrant hostel at the Cape. "The Funky Cichlid" offers camping, dorms, single and double rooms. They have a vibrant bar, a restaurant and are located right on the beach.
Day 3 – Cape Maclear Malawi
Finally, we got to see Lake Malawi, because when we arrived the day before it was already dark. Lake Malawi is the 3rd biggest lake in Africa and UNESCO World Heritage Site. The visibility is beyond all expectations and the variety of fish is incredible. You feel like you are on a beach not on the shore of a lake.
Local kids with self-made instruments made of rubbish played songs for us. We walked on the beach, chatted to many locals and ate Chambo, one of their favorite fish, and Nsima, a side made from maize meal.
It was a Saturday and we started off with drinks at the bar of our hostel and carried on at "Uncle Charle Booze Dan", which is a local bar and club in one. It´s a perfect spot to mingle with the Malawian people. What is really funny are the names the locals give themselves. While we traveled we met Fire, Chicken Pizza, Joe Banana, Captain Stanley, Eminem, Sweet Banana, Joe Banana, and Planet – just to mention a few.
---
How to travel Malawi like a local you are going to read here.
---
Day 4 – Cape Maclear Malawi
Waking up early we drove to Monkey Bay, which is a town nearby to withdraw some money and to get some food. Getting money was quite a mission. If you spend time at Cape Maclear get your money sorted before you come to the Peninsula. We found 2 ATM´s in Monkey Bay which didn´t work properly and only accept VISA. Later on, we had Nsima and Chicken at a local spot called "Lakeland Leisure Park", where you can go for drinks and party in the evening too. There we met Patrick, a local who gave us a tour of the harbor.  We chatted to the fisherman and made jokes with the kids. Especially the kids loved being photographed and recorded on videos.
From Monkey Bay there is also the "Ilala Ferry" going up Lake Malawi where you can hop on and off at several villages. Unfortunately, we didn´t have enough time to go up to Nhkata Bay by ferry. Choosing this way of transportation is a really cool experience and a perfect way of mingling with the locals because many Malawians using the ferry too.
Should you give money to begging kids?
On our way home, we passed kids playing football on a playground. What we then realized again is that Malawi is the poorest country in the world. The kids didn't even have a proper football to play with. They used self-made footballs.
Ever since we got to Malawi we have been given a lot of money to kids to support them. This time a group of girls approached us. The leader explained to me that they are about to start a girls team looking for someone to sponsor them. We gave 2.000 Kwacha to them which is about 3 Euros, literally nothing for us. Seeing that an average income in Malawi is about 40.000 Kwacha which is about 60 Euros, 2.000 Kwacha is a lot of money for them. My advice: lots of kids will approach you asking for money. I only realized later on that giving money doesn´t really help. We should have gotten a football to give to the girls or should have giving money to an organization that looks after children.
Day 5 – Cape Maclear Malawi
Day number 5 was reserved for cultural education. Getting up early, we went on a boat tour with a local company. With a hook, line, and bait our guide Stanley taught us how to catch a fish like a local. Mike and our teacher were the most successful ones, whereas I only managed to catch a really tiny fish.
Lake Malawi has the most variety of fish. That's why we didn't want to miss out on snorkeling before we had our tasty BBQ on an island. For lunch, our cook prepared Kampango, a bagrid catfish which is endemic to Lake Malawi served on a bed of rice accompanied by a tasty vegetable relish. For the Malawians, fish is the stable food for communities living on the lake. That´s why you can find lots of fish dishes in the traditional Malawian kitchen. The local's favorite fish are "Bonya", "Chambo" and "Kampango". Our hostel "The Funky Chichlid" is well known for its delicious "Fish Curry", which is made from Kampango. Back at our hostel, I received a cooking lesson by the chefs. Samson and James taught me how to cook "Fish Curry". If you are interested in the recipe and also want to get know a few of the super friendly Malawians? Find the step by step recipe and cook along with us on my Vlog here. We finished off our day with dinner and a lesson of how to play the drums at "Banapaya", a local bar and restaurant. If you go there ask for Eminem, he is a really nice guy that works there. You can read his story here.
---
Read next: Fish Curry and Nsima – how to prepare a traditional Malawian dish.
---
Day 6 – Cape Maclear Malawi
Our initial plan was leave our hostel "The Funky Cichlid" today, but we had already extended our stay for another night since we really enjoyed staying there and had made friends with the staff and many locals of Cape Maclear. We ended up spending the entire day chilling and getting to know more people. We were strolling through the village and chatting to the locals again. Finally, we even found a Mc Donalds, a guy with a self-made Mc Donald's sign selling chips. Of course, we had to try it and it was yummy.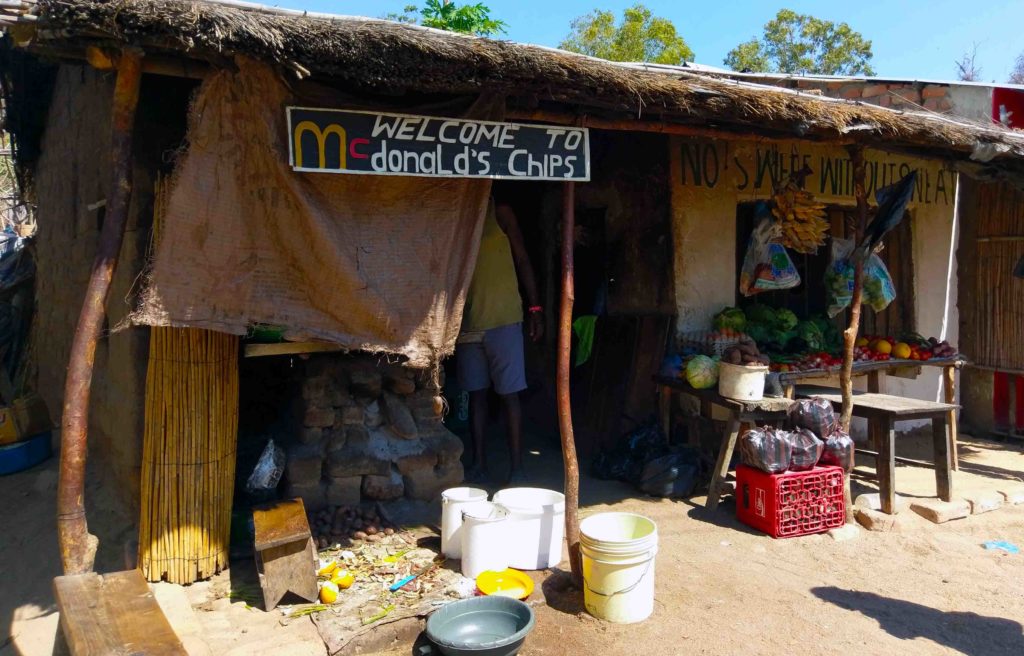 Besides all the leisure and fun we have had so far, we didn´t forget about the chores of life: we had to do laundry. It is common in Malawi to do all the washing on the shores of Lake Malawi. Mike and I approached 2 girls to teach us how they do their washing. Imagine you have to do the laundry of the entire family the way they do it.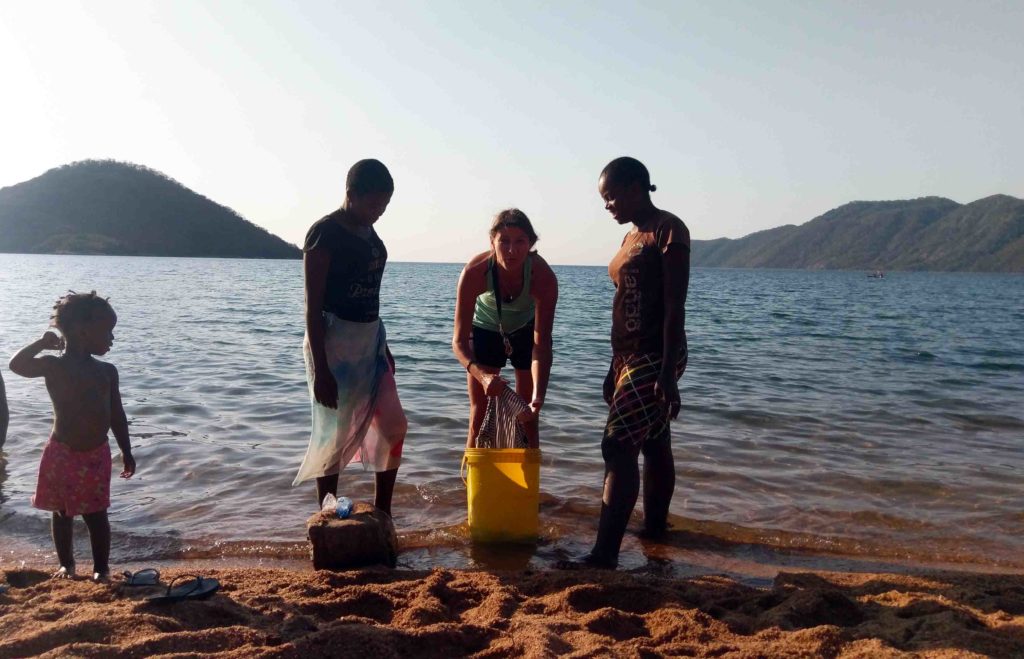 I have to admit, it is such a tiring and time-consuming job. We really have to appreciate our modern way of life and the fact that we have washing machines. That evening we enjoyed watching the sunset by going on a snorkeling sunset cruise.
Day 7 – Cape Maclear Malawi
Again we were supposed to leave our hostel and Cape Maclear. Since we didn't have much activity the previous days, we hired a motorboat to do some water sport before leaving. Apparently, the boat we were supposed to take hadn't been used for a long time. It took the team 2 hours to get the boat started. Eventually, we started our water sport adventure at 12 p.m. and were enjoying ourselves riding the wakeboard and the water ski. When we finished it was almost 2.30 p.m. and we spontaneously decided to extend our stay for another night as it was already too late to go to "Liwonde National Park", which was supposed to be our next stop. We spent the evening watching the staff of our hostel at a local football game and then headed off for some beers at "Uncle Charle Booze Dan" the local pub and nightclub.
Enjoying the story? Read about what else we got up to in the beautiful countryside of Malawi. The 2nd part and the 3rd part of my road trip you can check out here.
Watch my Vlog of the first part of my Malawi trip here:
Have you heard of Malawi before? Let me know in the comments!
Would you like to read and see more about my Africa trips? Here we go!
[Disclaimer: This blog post contains some affiliate links. Purchasing something may earn me a small commission at no extra cost to you. This tiny commission will help support my blog hosting and other maintenance costs. All my opinions are my own and were not influenced in any way. Thank you!]