15 Things to Know about Mozambique
What comes to your mind when you think about Mozambique? Before I went to Mozambique I made the mistake of reading up on the country on a German Government website. This page gives advice on safety, health, and the "do's and don'ts" when traveling to a certain country.
I read about:
Malaria (I have to mention, that I had never been to a Malaria area before)
Crime
Corrupt police officers
Bribery
Landmines
Just to mention a few…
"Ok, that's it!", I decided "…there is no way I'm going to Mozambique." I was super scared. Fortunately, I have a friend who is very pushy who eventually managed to convince me to join him for a 10-day Mozambique road trip.
Besides all of the "information" provided on the German Government website, they forgot to mention all the beautiful things I found in Mozambique when I finally got there.
They forgot to mention that this beautiful country has:
Unspoiled beaches
Indigenous nature
A variety of landscape
Super yummy food
They forgot to mention that:
Tourism (and therefore the spoiling of culture) hasn't arrived there yet
Mozambique and its people are still true to tradition
The people are gorgeous and some of the friendliest people I have met so far
---
---
They also failed to mention that it is a paradise for:
Beach lovers
Safari addicts
Water sport fans
Don´t forget to pin my post:
Besides that, I have to say that I felt super safe on the streets when walking. Especially in the villages but also outside of the city center of Maputo. Walking in the middle of the night, just my friend and I, felt way safer than anywhere in South Africa. What also surprised me is the fact that during the 10 days I spent there I didn't come across a single person begging or asking for money on the streets. To help you traveling this beautiful country I put together a list of 15 things to know about Mozambique. Check it out!
15 Things to know about Mozambique:
1. Mozambique Visa
Mozambique changed their visa restrictions recently. All international travelers can now obtain a dual-entry visa on arrival at the following boarder posts in Mozambique:
Maputo Airport
Maputo Port
Inhambane Airport
Pemba Airport
Vilanculos Airport
Ressano Garcia
Ponto D´ouro
Goba
Nampula Airport
2. How to get there
Public Transport:
If you would like to go by bus to Mozambique you can either take Intercape or the City to City bus from Johannesburg to Maputo. Moreover, there are also the minibuses going from South Africa, Zambia, Zimbabwe, Tanzania and Malawi.
Plane:
There are several airports in Mozambique but most of them are smaller like for instance the Inhambane, Vilanculos or Bilene Airport. The International Airport is located in the capital Maputo. To find the best flight deals, I can honestly recommend skyscanner. I always book my flights through their flight search engine:
---
Are you planning on traveling Africa soon? Here you can design your own Africa trip:
---
Rental Car:
If you planning on driving to Mozambique with a rental car here are my tips: Renting a car in Mozambique is quite expensive. It's better to rent a car in South Africa and to cross the border. Check out in advance where you are going as many streets can only be driven by a 4×4. The trip we did, crossing the border at Komatiport and going up the N1 is fine without a 4×4. If you cross the border at Ponto D´Ouro, you definitely need a 4 x4. What is also important is to check if you can cross the border to Mozambique with your rental car. Many companies like AVIS and Budget don't allow crossing the border to Mozambique. Bear in mind as well that some borders have special opening hours. My recommendation for hiring a car is Rentalcars.com.  They check all the top car hire companies at over 53.000 locations to find the best deals for you:
3. How to get around in Mozambique
Rental Car
By planning your trip with a rental car keep in mind that it takes a lot of time going up the coast. You need at least 2 1/2 hours for 150 km as you are only allowed to go 60 km/h or 100 km/h and in some areas, the streets have many potholes forcing you to go slower.
Public Transport
If you would like to get around the country with public transportation use the Chapas. These minibusses go everywhere but what you need again is time, lots of it.
4. Language
Mozambique used to be a Portuguese colony and that's why most of the people speak Portuguese but also many other languages are spoken like Chichewa. Most of the locals we met, spoke English as well.
---
Chichewa for travellers: Read my post and learn the most important words and phrases.
---
5. Fake police officers
I read about these guys on my German government page. Compared to what we experienced there was quite a lot of exaggerating. According to the page, you are going to get stopped by one of them twice every day. In fact, they stopped us once on our 10 days there. Official police officers usually wear white shirts. We were stopped by one guy with a blue shirt and were told we need to get a special stamp for our rental car. We pretended to sort it out by ourselves at the next police station and off we went. The fake dude pretended that he could help with the stamp to get it faster and obviously he wanted money but we didn't give a single coin to him. Another piece of advice: In case you meet one of them never give original documents (passport or driver license), show a copy to them.
6. Things to do and places to visit in Mozambique
Maputo – Capital of Mozambique
My recommendation: spend at least one day in the capital Maputo as it is the most developed city in Mozambique. Most of Maputo's main tourist attractions are a short walk from each other.
Must sees in Maputo:
Fort
City Hall
Statue of Samora Machel
Cathedral
Jardim Tunduru Botanical Gardens
Central Train Station
Close to the entrance of the Mozambique Botanical Garden you can find a recently refurbished Tourist Information office. The staff are young, informed and provide great walking tours of the city.
Xai Xai
One of the most beautiful beaches (except Bazaruto and Benguele) I have seen in Mozambique we found in Xai Xai. It is a super tiny village and super peaceful – perfect to relax.
Lagoa Quissico
We saw a lake on our way up to Tofu Beach by chance. We took the turnoff and just wanted to take some pics. After a 10 minute drive and getting stuck in the sand we found ourselves in a small, beautiful village next to a mozambique lake. It was like a little hidden paradise. What we also found was a beautiful garden next to the lake where the locals grew food. It was insanely beautiful.
Tofo Beach
Mozambique beaches are beautiful. The Tofo beach is one of them. Tofo is a cute little town with lots of street food, bars and restaurants. It's more touristy since it is famous for diving with the whale sharks. Tofo is the best place to see whale sharks. A whale shark is a huge fish that grows as big as 3 people and looks super scary but surprisingly it is super peaceful. Don't miss out on booking an Ocean Safari. Luckily we saw the Big Five of the Ocean (turtle, whale, whale shark, manta stingray, dolphins). As I mentioned, you find delicious street food in Tofo. I had 1 kg delicious prawns, fresh out of the ocean and prepared by a local woman on the Braai on the street. If you want to go for a drink, get your drinks (even mixers) at one of the container bars on the street.
Vilanculos
3 hours from Tofo up the N1 you will find Vilanculos, an super cute coastal town. A must do in Vilanculos is an Island Tour to Bazaruto and Benguele. These two islands have stunningly beautiful beaches. Missing out on that would be a pity. We snorkeled, had yummy Braai, saw flamingos and dolphins. The tour was breathtaking but quite expensive ($60) for Mozambique. I love beaches. What was a bit disappointing was the beach in Vilanculos it self. The tides made it impossible to swim but we had some tasty local food to make up for it. Either you buy fresh fish direct from the fisherman to make a Braai or you go to "Leopoldinas", a local restaurant. Those who admire good coffee get yourself one at "Cafe Mozambiqueano".
Mozambique beaches/ Isla de Mozambique/Santa Carolina
We haven´t been to the Island on Mozambique or Santa Carolina but friends told me it is super beautiful. You should definitely make it a stop on your trip.
Chedenguele
Next to Xai Xai you find Chedenguele. This place is perfect to relax as well as the beach is stunning and it is super peaceful and tranquil.
7. Mozambique currency/Money/ATM´s
The currency in Mozambique is the Mozambican metical (MZM). It was a bit difficult to withdraw a lot of cash at the same ATM as you were only allowed to receive 60 Dollars at a time. Also, there were always lines at the ATM´s. Most of the time we exchanged South African Rands to MZM in little shops on the street.
8. Roadblocks
What we also found were many police stops on our way up the N1 but every time they realized that we are tourists they would let us pass. They would only stop locals with broken-down cars or the local Chapas.
---
---
9. Landmines
The landmines is another things you have to know about Mozambique before traveling the country. During the fight for independence followed by a civil war, many landmines were planted and left in Mozambique. Mozambique, however, officially declared itself landmine free in 2015. Still, everytime when we went offroad I was a bit scared.
10. Local food
You can feel the Portuguese influence in dishes like Peri Peri (spicy) Chicken or Peri Peri Prawns. Cassava and rice is the staple food and served on the side. In general, you will find delicious seafood in Mozambique. Especially if you eat out in local restaurants and the street food places you can get super yummy food for about $2/ plate. I had 1 kg of prawns for about $5 (July 2016).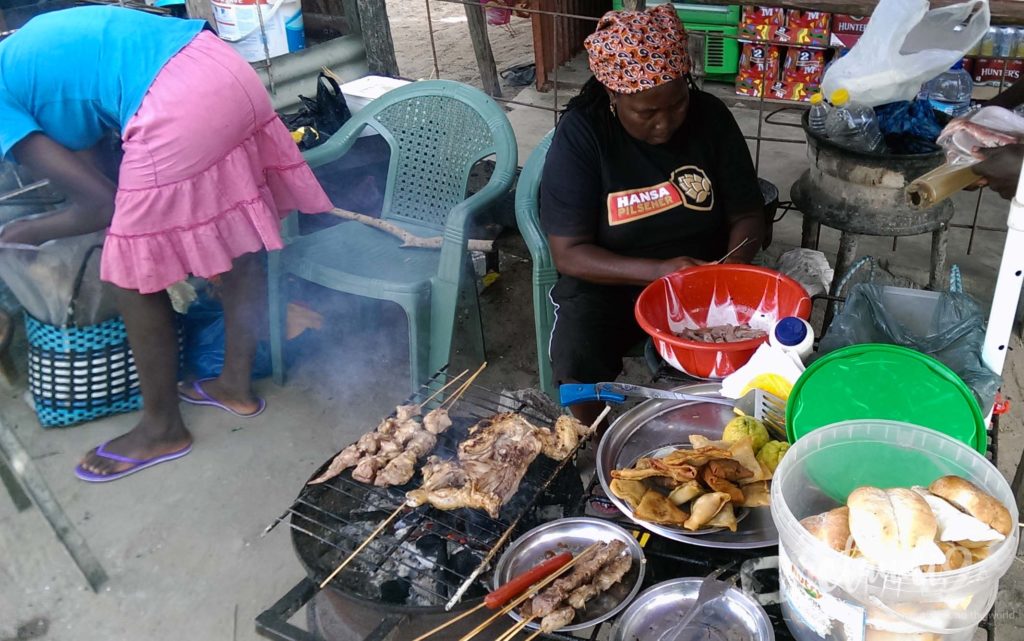 11. Fresh Fruits Galore
Don't miss out on trying the delicious fruits and vegetables the locals sell on markets and on the side of the road. During our trip we got to buy the best fresh fruits and vegetables coming from Maputo going up the coast before Bilene. On the right-hand side, there were locals sitting under trees selling food they grew.
12. DriveMoz
Especially if you go on a road trip with a car sign up for "DriveMoz" and join the group on Facebook. It is sort of a live Walkie Talkie in case you get stuck with your car or in case you have problems. The community is online 24 hours and able to assist you in difficult situations. Hence, it is also helpful to get yourself a Vodacom SIM card and upload some data and airtime at the official Vodacom shop at the border.
13. SIM Card/ Internet
If I travel a certain country I always get myself a local sim card with some airtime (talk time) and data. The main provider in Mozambique is Vodacom which worked perfectly and was quite cheap.
---
---
14. Things to know about Mozambique – Cashews
Mozambique is known for their delicious cashews. What we found is that the Maputo and Bilene area has the best cashews. Especially in the Bilene area- they sell them next to the main road in plastic bags. I have never eaten so many cashews in my entire life. They are super yummy – especially the roasted ones. The further up the coast you go the fewer cashews you can buy and the quality isn't that good (also depending on the season).
15. Mozambique Weather / Best travel time
What I found is that June to September is the best season to travel Mozambique. We went there in August. We barely saw tourists and mosquitoes. That time of year's temperature is 25 degrees on average with very low humidity. My advice: avoid traveling to Moz from around the end of December to the beginning of January. At that time it is packed with South Africans as they come there for their summer holidays. One more advice: although it isn´t mosquito season you should take precautions and spray yourself as Mozambique is Malaria area.
Have you been to Mozambique? Did you love the country as much as I did?
Watch my video of "15 Things to know about Mozambique":
Would you like to read and see more about my Africa trips? Here we go!
[Disclaimer: This blog post contains some affiliate links. Once you purchase something, I may earn a small commission at no extra cost to you. This tiny commission will help support my blog hosting and other maintenance costs. All my opinions are my own and were not influenced in any way. Thank you!]