NAMBOTSZIMZAM – No, this is not a foreign language, nor is this the name of a traditional African dish. It is however the travel itinerary of my second safari in Africa. I have been in Cape Town for quite some time already and my plan was to see as much as possible of Africa. I always wanted to visit Namibia again. I've been there already but still haven't seen all there is to see. Besides Namibia I wanted to also cross Botswana, Zimbabwe and Zambia off my bucket list. I was so keen on visiting Okavanga Delta, Chobe National Park and the mighty Victoria Falls.
I had previously joined a ´Wild Dog Safaris´ tour in October 2016. What I really like about this Namibian company is the fact that they only have small groups which makes the safari super personal. This time I choose a 9 day camping tour in January. The beginning of the year is probably the worst time to travel those countries. Why? Well, first of all, I started my trip from Cape Town.  January is high season and vacation time for South Africans. All the flights within Africa were super expensive. Secondly, in January it is rain and mosquito season. Even so, I decided to go for it and indeed I had a wonderful journey.
30 hours in a bus versus 2 hours of flying
Before this, I travelled from Cape Town to Windhoek/Namibia by bus. That was the longest bus ride ever! It took me 30 hours to get there. Even though it's a long ride, it was actually ok because Intercape, the bus I was travelling with, is a Sleepliner and extremely comfortable. This time I choose the faster version, a 2 hour flight. My safari with Wild Dogs started in Windhoek and ended at Victoria Falls in Zimbabwe. After that I wanted to visit friends that run a backpacker in Livingston in Zambia.
First Bushman/San I have met
Ghanzi/ Namibia
With 11 guests, cook Matthew as well as tour guide Ian we headed northeast via Gobabis to Ghanzi. I saw Bushman on TV but hadn't met one yet. "Dquare Quare Lodge" was  the first camp we stayed at. This San Camp (San is the official classification for Bushman) is a celebration of San Culture. It was supposed to rain the entire night but instead of staying on the campsite, the camp owner Caua offered for us to stay in the rooms for free. Fortunately, the rain stopped the following day so we could go on a bush walk. Caua showed us plants and trees they eat and which they also use as treatments to kill the poison of snakes and scorpions. At the time I was on that safari I stayed in a house in Bokaap, Cape Town. Our neighbours told me that especially on hot summer days we had to be aware of snakes as they can come into the house to escape the heat. I hate snakes!!! I would rather have 10 cockroaches than one snake in my house (and I have to admit that I hate cockroaches, I just hate snakes more). Listening to Caua´s explanation of how to kill the poison of a snake almost made me offer him the couch of our house for a summer time stay! (…Just in case one of my housemates or myself would have got attacked by a snake in our house there would have been someone that would have been able to save us from dying of a snake bite! Fortunately we never had a snake in our house.) Besides the snake bite first-aid Caua showed us how to read the tracks of animals and taught us how to start a fire in the bush without using a lighter and charcoal.
The Everglades of Botswana
Okavanga Delta/ Botswana
The Okavanga Delta is situated north of Botswana and is a very large and swampy inland delta and one of the most incredible wilderness sanctuaries in Africa. It was so hot and humid when we got there. I longed to go for a swim but swimming in Okavanga Delta is definitely not a good idea as the probability of meeting some of the most dangerous animals in the world, hippo and crocodile, is quite high. In fact, you can compare the Okavanga Delta with the Everglades in Florida but I don´t want to scare you as the Delta is actually insanely beautiful and a nature lovers heaven.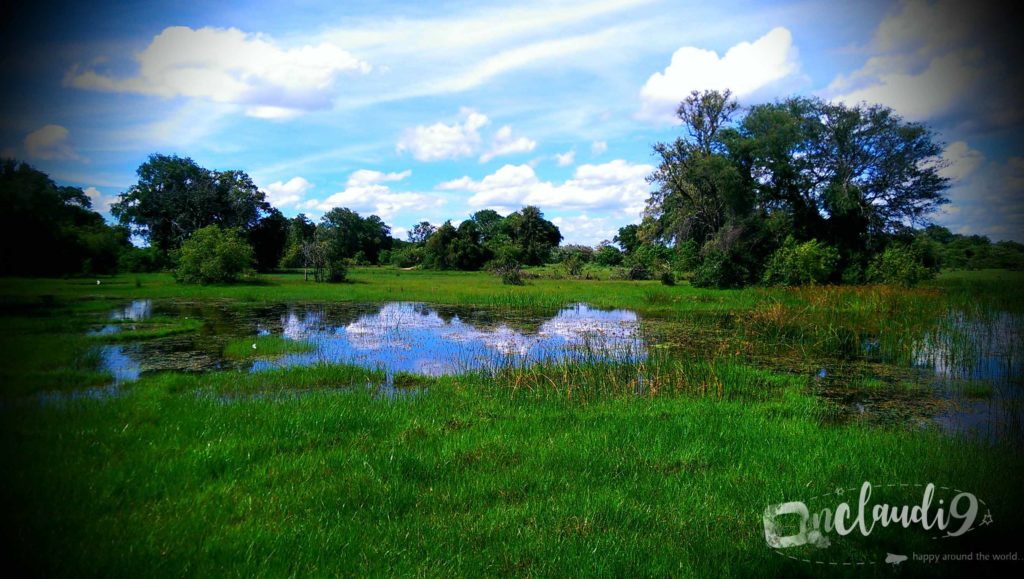 Our Camp we stayed for the night, Guma Lagoon Campside, is situated on the banks of the Guma Lagoon on the north-western side of the Okavango Delta. The day we got there it rained cats and dogs. I am not joking. The rain started at 4 p.m. and would only stop at 6 a.m. the following day. Seriously, I haven't experienced floods like this before. Keep in mind: we camped. I am still surprised that we did not wake up in another camp the following day or next to a hippo or crocodile on the water of Okavanga Delta. I actually expected the floods to carry our tents there while we slept. What really surprised me as well is the fact that the tents didn't get wet at all.
What does one do on a rainy day? Chilling in the camp with a good book, watching the stunning view of Okavanga Delta and enjoying the yummy food our tour guides prepared was the itinerary for the day. What more could you want? The next day it was time to explore the swampy inland delta by boat. By motor boat we travelled deep into the Okavanga Delta. We then switched to the traditional Mokoro. This is a wooden boat that can carry 3 people, 2 guests and one guy that pushes the boat forward with a long pole. It was so peaceful, tranquil and relaxing out there. The water was covered with waterlillies. The only things we listened to were the sounds of the nature. We spend the entire morning on the water and also watched crocodiles and hippos. To be honest that was a bit scary. Did you know that hippos go after humans and can kill you? Those heavy cute looking animals can become really aggressive and they can run as fast as a lion. So you better stay away from them. Thanks to our boat driver, he did an amazing job and propelled us safely through the water.
 

A night in Prison
Caprivi Stripe/ Namibia
From Okavanga Delta we headed further north to cross the border in Mohembo back to Namibia. In order to reach our next camp we drove along the Caprivi Stripe. Caprivi Stripe is a small stripe of Namibia that connects Namibia with Botswana, Zimbabwe and Zambia. Back in the days this part didn't belong to Namibia. The British gave it back to the Germans in exchange for Zanzibar.
After a game drive and tasty lunch we were stopped at a roadblock. None of the safari group members noticed the police and the entire group assumed we were having a break so we took off our seatbelts. A few seconds later a police officer entered the bus blaming us for not wearing our seatbelts. We started arguing with him that we just took them off but that annoyed him even more.  Our driver and tour guide Ian had to follow him. A few minutes later Ian asked us to apologize to the officer as he felt disrespected. This guy was really serious about his job! The deal he offered us was hilarious. We had to either pay N$ 1000 each right now or we would spend the night in prison. None of us could believe what just happened! Fortunately, we convinced him to let us pass. We continued our trip and stopped at Kwando Camp in Kwando for the night. The upcoming day we visited a traditional village. We were shown the way they cook and weave baskets and the medicine man did a traditional dance for us. While he danced he fell into trance. In order to wake him up the woman of the village emptied a basket full of cold water over his head.
The most interesting thing I learned that day was the way they protect themselves from wild animals, like Elephants. Whenever you are planning to spend a night in nature and you are afraid of getting attacked by wild animals this is all you have to do: just mix elephant dung with chili powder, put it in a circle around you and light it. Done! You are safe for at least 6 hours. Amazing stuff. 
A tumble dryer please!
Chobe National Park
I explained to you already that the beginning of the year isn't the best time to join this safari but I found at the end of the day,  this time of the year might just be perfect. In fact you can only benefit by travelling in the beginning of the year. Why? Well, you barely have tourists so it's the perfect time to relax. As it is still hot and humid, I loved being refreshed by rain. Besides that we got offers to stay in rooms instead of camping without paying more. What is a bit of a problem though is drying your towels and washing as not every camp has a laundry service but even for that we had a solution. We came up with this amazing idea of creating a tumble dryer out of our overland truck. By opening all windows and hanging wet laundry out of the windows you actually received better and faster results than with a tumble dryer. I have to admit the people we passed were a bit confused due to the underwear, towels and bikinis hanging out of the windows but we didn't care.
With dry clothing we headed back to Botswana stopping at Kansani. The camp we stayed at: Chobe Safari Camp is located on the Chobe River and about 5 minutes away from the Chobe National Park, the most well known National Park in Botswana. On our way from the boarder of Namibia to the camp I felt like I was on a safari already. It's common in Germany that you find signs on the side of the road saying, 'Beware animals crossing'.  In Africa though, it's common that you find signs saying, 'Beware Elephants crossing`. Initially, I thought it's a joke but believe me – it's not a joke at all. Sometimes herds of elephants blocked the roads. It was impressive seeing those heavy creatures walking in front of our bus. Please be careful as well: especially the African elephants are quite dangerous. Trying to take selfies with them is not a good idea, especially when they have their babies with them. They can become aggressive as well.
The ugly five
Chobe National Park
On our 6th day we were scheduled for a morning game drive in Chobe National Park as well as an afternoon game cruise. What was different to my previous game drives in Kruger was the landscape. I haven't seen Africa that green. Everything was beautiful green due to the rain season.
The downside is that it's really difficult to spot animals as the conditions are perfect for them to hide. At least the Ugly Five didn´t hide that day. I am pretty sure you have heard of the Big Five- Rhino, Elephant, Lion, Buffalo and Leopard. The less beautiful animals are called the Ugly Five. These are Warthog, Baboons, Hyena, Vulture and Marabou Stork. Sorry guys but seriously you are no beauties at all!
In the afternoon we went on a boat safari. With a boat that carried about 50 people we floated along the coastline watching elephants bathing and crocodiles relaxing. We saw a variety of birds, something Botswana is actually well known for. For me boat safaris are the best as there is no way of getting super close to crocodiles, buffalos and hippos without being afraid of getting attacked by them. If you have the chance of going on a boat safari – do it!
Suddenly engaged
Mosi- Oa-Tunya: The Smoke that Thunders – Victoria Falls/ Zimbabwe
Finally it was time to see the mighty Victoria Falls. From Kansani it took us only one more hour to reach our camp in Victoria Falls City: Victoria Falls Rest Camp and Lodges in Zimbabwe. The entrance of Victoria Falls National Park and the bridge that leads to Zambia is within 10 minutes of walking. To be honest, the entire city is really touristic. For those who have never heard of Victoria Falls before, it is a mighty waterfall on the Zambesi River. It is one of the Seven Natural Wonders of the world and UNESCO World HERITAGE. More tips about Victoria Falls you are going to read here. We spent about 4 hours in the national park to check out the waterfall from all of the 15 look outs. Fortunately, it was not raining and the waterfall was full of water – another advantage of doing this trip in January.
Don´t forget to pin my post:
After that we visited the local craft centre. This market consists of about 30 shops selling craft made of wood, stone and everything else you can think of. They make impressive art. I would have loved to buy everything but it is so difficult to carry that home with you. One of the shop owners was into me! The conversation he started ended in proposing to me in front of my group. I refused and tried to get out of there as fast as possible – believe me I have never been that quick. 
That evening we had a fare well dinner. Half of the people in my group spent another day at Victoria Falls as there is so much to do at the Falls (White Water Rafting, Bungee Jumping, Devils Pools…). I planned to walk to Zambia. In fact that was my first border crossed by foot. I was super excited. Victoria Falls City/ Zimbabwe and Livingston/ Zambia are connected by a bridge. You can easily cross it. On my way a few more guys tried to propose to me again but all of them were super friendly and polite. On the Zambian side my friends from "Livingston Backpackers" were already waiting for me and I spent another 4 nights in their great backpackers.
You would like to visit Victoria Falls? Here you are going to find all the information and tips you need to know in advance.
Here you can find my video with more impressions of my trip:
It stands since January 2017.
All my opinions are my own and were not influenced in any way.