Ultimate Guide to Malawi Africa – Part 2/3
The most spontaneous and outstanding trip in Africa I have ever done was my trip in Malawi. 3 friends (Mike from The Netherlands as well as Andi and Andi from Germany) joined me for that unique  adventure. Here you can read about the 1st part and the 3rd part of our trip. This post is going to outline the 2nd part of our tour throughout the "Warm Heart of Africa".
Follow my ultimate 3 weeks road trip of traveling Malawi and get to know the culture, tradition and the people.  Don´t forget to watch my second Vlog, which you can find at the bottom of this post:
Day 8 – Liwonde National Park Malawi
Eventually we had to leave Cape Maclear as we wanted to go further south to visit "Liwonde National Park". I have to admit it was really tough saying good bye to the locals we had made friends with and Cape Maclear it self. We had only been there for 5 nights but it already felt like home. Even the hostel staff had started to become like family. Everyone was super friendly and welcoming. We left at 12 p.m. and made our way down to the south to see the Wild Life of Malawi. "Liwonde National Park" is supposed to be the best National Park In Malawi. On our way, I again had the realisation that driving through Malawi with a 4 x 4 is definitely the best way of doing it. Unfortunately,we didn´t have a 4×4. We had a sedan car which was packed and totally overloaded with 4 people and our luggage. This, and the sometimes bumpy streets made it impossible for us to go any further without damaging the car. What we had to start doing then was sort of ridiculous but in order to prevent further damage it was the best solution. Whenever there was a big bump all passengers got out of the car and the driver passed the obstacle slowly. After that we got back into the car again and carried on. At 5 p.m. we arrived at our Lodge "Liwonde Safari Camp". After dinner we went to bed early, drifting off to the sounds of the nature.

Day 9 – Liwonde National Park Malawi
After sleeping in and going on a bush walk to explore the camp we went on a boat safari. I have been on a few safaris and even on a boat safari before.  For me, there is no better way of getting that close to the animals other than being on a boat. We mainly spotted elephants and hippos and it was impressive again even though I had seen them on many safaris before.
Don´t forget to pin my post:
On the shores of the river "Shire" where we started our safari we found impressive gardens where locals grow food like strawberries, lettuce, potatoes and tomatoes. Farming in order to produce their own food is an important part of the Malawian culture and it's even a subject the kids get taught in school.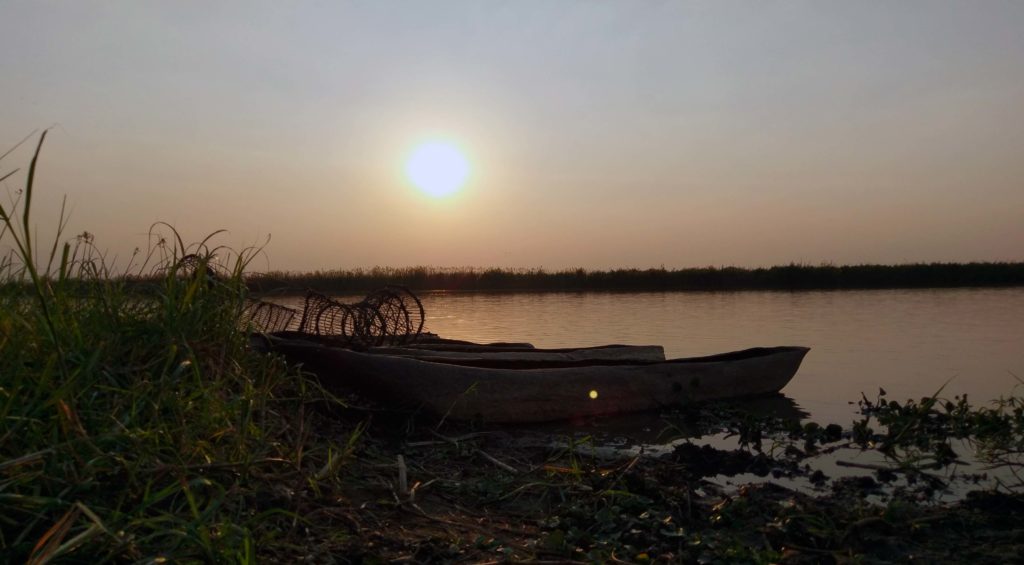 In the evening we climbed a viewpoint at our lodge trying to spot animals. We listened to the sounds of elephants but unfortunately couldn´t see them as it was already dark. 
Day 10 – Senga Bay Malawi
Since we weren´t successful in spotting animals the previous night we decided to get up at 5.30 a.m. to give it another try. Finally, we saw elephants passing by, warthogs looking for food and baboons and monkeys observing us. I personally hate Baboons and get a little scared when they come close. They can get really aggressive and even steal your things if you don´t watch them. Andi had already lost his breakfast to a monkey the previous day as he wasn´t paying attention.
At noon we left Liwonde National Park to Senga Bay. Many locals come to this beautiful bay for a weekend trip as it is only 1 1/2 hours away from Lilongwe. That's also the reason why it is much more busier than Cape Maclear. We stayed at the hostel "Cool Runnings", which is right on the beach and has a relaxed vibe. If we didn't have to leave the following day we would have gotten stuck there for a few days!
In the evening we wanted to go to the local restaurant "Halifa". One thing we have experienced quite often since we've gotten to Malawi are the numerous blackouts. In some areas they told us they turn off the power every night to save electricity. What that also means is that there is no light on the streets at all. A guy from our hostel escorted us to the restaurant to show us the way. It was unbelievably dark, you couldn´t even see your hand in front of your eyes. Honestly, we didn´t actually know where our guide was taking us. We had to make our way back to the hostel by ourselves and had to remember the way. At some point we made a joke out of the situation. There was a cow sitting on the street. So we tried to remember the way like that; turn right at the sitting cow. Fortunately, we didn´t get lost although the cow was gone by the time we had finished our dinner, which was Butterfish and Nsima. 
In the club "Iponga Bar" we made new friends, tasted local self brewed beer and wine and danced to the beats of African house music.
---
Read next: Fish Curry and Nsima – how to prepare a traditional Malawian dish.
---
Day 11 – Lilongwe Malawi
It was a fun night with lots of drinks so we woke up quite late. In order to fight the hangover we had some street food at the market in Senga Bay. We had to head back to Lilongwe because Andi, one of my friends, had to leave from Malawi back to Germany. Owen, our Malawian friend we rented the car from, was already waiting for us in Lilongwe. He welcomed us with a Braai (BBQ) and even slaughtered a goat for us. Slaughtering a goat for someone is a big gesture in the Malawian culture. Usually they do that for family parties or for big events. Owen was really looking forward to seeing us again and he even invited us to stay at his place. Owen is the best example of why they call Malawi "The Warm Heart of Africa". No matter how long you have known someone, almost all the people we met were super welcoming and friendly. I have been travelling Africa a lot and the Malawians are actually my favourite. It´s so easy to approach them and to start chatting to them, most of them speak English and even if they don´t speak English they are still extremely kind and happily help you out.  
---
Malawian Language: Here you will find the most important phrases and words that helped me traveling Malawi.
---
Unfortunately, with every beautiful thing about Malawi there is also a downside – it is the poorest country in the world. You will find many of the Malawians that haven't had the chance of receiving a proper education. Many of the people can barely write or calculate, don´t know their age, the age of their kids or mix these up for example. 
Day 12 – Lilongwe Malawi
This day was spent driving around, a bit of shopping for the upcoming days and dropping off one of the Andi´s at the airport. We also had to make a plan of where to go the following day. We had 9 more days to spend but the other Andi and I had to leave for Zambia at some point. Our return flight was booked for Lusaka. When we started planning our trip we had this idea of traveling Malawi and parts of Zambia and that´s why we booked the return flight from Lusaka. Now we realised we still hadn´t seen a lot from Malawi and actually enjoyed traveling this country. In a last minute decision we changed our flights from Lusaka to Lilongwe in order to spend 3 entire weeks in Malawi. Advised by friends we decided to go to "Kande Beach" in the north of Malawi the next day. 
---
---
Day 13 – Kande Beach Malawi
We woke up pretty early and it was the first time we experienced another problem Malawi is dealing with – the water supply. There was barely water coming out of the tap the night before. This morning there was no water at all. Remember though, we were in the capital of the country! Owen, our host told us the worst he experienced were 3 days without water. Malawi in general has severe problems with blackouts and the water distribution. Only rich families can afford to build cisterns and buy generators and that's what most of the lodges and hostels have as well. Poor people can´t afford doing that so it´s part of their everyday life. Fortunately, in small villages they pump water from the borehole so they aren´t dependent on the water coming out of the tap. Still it´s sad to see that they can´t get rid of this problem. On our way to Kande we stopped in Mkaika for lunch. A local took us through the little narrow streets of the village to a hidden restaurant. 1 coke and a plate of Nsima and local Chicken was 1000 Malawian Kwacha (1,20 Eur).
Apparently, in this little village it's really rare that the people see white people as everyone started staring at us and calling us "Azungu". Azungu, is Chichewa and the plural for a white person. The singular is "Mzungu". Whenever you hear that expression you know they are talking about you but not in a bad way. 30 minutes later we stopped again in Nkhotakota to buy a cable. Walking around looking for an electronic shop we ended up at a local bar next to "Nkhotakota Night Club". They were playing extremely loud music, locals were drinking beers and playing pool. Keep in mind it was a Tuesday, 2p.m. but this is what we had experienced everywhere. No matter what day, no matter what time, for the Malawians there is always a reason to party. Resolutely, we joined them and had 2 "greens", the local beer, as well. What is common that most of the time you can only see man going out, you barely see woman. 
---
---
We started our drive to Kande, which is about 250 km away from Lilongwe, at 11 a.m. In Germany it would have taken us 3 hours to get there. In Malawi that is a bit different. Most streets are doable with a sedan car but still you have to be aware of many things. There are potholes, road obstacles and people walking on the side of the road. My advice: make sure you drive during the day, avoid driving when its already dark as it is so easy to oversee something or someone. Eventually we got to "Kande Beach" at 5 p.m. This region is Tonga area, which is another tribe in Malawi. It almost took us 2 weeks to learn a bit of Chichewa, which is spoken by everyone in Malawi and which isn't easy. Now, we had to switch our brains to Tonga which was a bit different. On a bumpy, sandy road we made our way to our next place to stay "Kande Beach Lodge" right on the beach. That day 2 friends, Luca and Sarah in a 4 x 4 arrived as well. We have already met several times in Malawi. Sitting on the roof and in the back of the pick up we drove back to the village Kande to get some food and drinks. We ended up in "Talengesi Nhyankata" bar for a couple of beers making new friends again. Accidentally we started chatting to a local and found out that he is the best buddy of a guy that Mike and I had been staying with in Cape Town. Honestly, we were in the middle of nowhere – how small is this world?!
Enjoying the story? Read about what else we got up to in the beautiful countryside of Malawi. Here you find the 1st part and the 3rd part of my trip.
Don´t miss out on watching my second Vlog:
Would you like to read and see more about my Africa trips? Here we go!
[Disclaimer: This blog post contains some affiliate links. Purchasing something may earn me a small commission at no extra cost to you. This tiny commission will help support my blog hosting and other maintenance costs. All my opinions are my own and were not influenced in any way. Thank you!]