Balkan Road Trip – Montenegro, Croatia and Bosnia Herzegovina
Join me and my family on our 10-day Balkan Road Trip visiting Montenegro, Bosnia Herzegovina and Croatia.
For me, spring is the best time to travel in Europe. The temperatures are nice, the places aren´t too crowded and flights as well as accommodation are still affordable.
We planned to check out Dubrovnik in Croatia for 4 days since we found a super cheap flight. Besides that, we thought a city trip is a good idea as we wanted to see how our newborn is going to adapt to her first trip.  After having a look at the European map I realized that only going to Dubrovnik would be a pity. The city, which became super famous due to Game of Thrones, is a 30 minutes drive away from Montenegro as well as only a 30 minutes drive away from Bosnia Herzegovina. Resolutely, we changed plans. Instead of a 4-day city trip, we decided to go on a 10-day road trip covering those 3 countries.
Come and follow along my 10-day Balkan Road Trip itinerary
Kotor – Montenegro 
Day 1
We landed in Dubrovnik early in the morning, fetched our rental car and went straight to Montenegro. Border check at Karasovice – Debeli Brijeg was really quick since we were traveling at the beginning of May.
---
My tips for border crossing from Croatia to Montenegro:

Karasovice – Debeli Brijeg border:

If you plan a Balkan road trip in peak season (July/ August) you have to be aware of waiting time. It can take you 20 minutes or even hours. The best time to cross the border from Croatia to Montenegro is early in the morning though. If you want to go to Montenegro rather fly into Tivat or Podgorica airport or spend a night in Dubrovnik and cross early in the morning the next day.

Konfin – Njivice border:

The second border Konfin Njivice used to be a local secret but is not anymore. My tip: in peak season cross early in the morning too.
---
We drove along the Bay of Kotor. The scenery was beautiful and made us stop several times to just enjoy the view. When we finally got to Kotor we almost got a heart attack. Kotor is one of the most famous towns in Montenegro and literally millions of tourists were strolling through the streets. What we didn´t know is Kotors Old Town is a stopover for many cruises. Our host then told us that there are usually 2 cruises with up to 7000 people disembarking every day (read my note regarding overtourism on the bottom of this post). It is understandable why it is such a famous destination as Kotors medieval Old Town is really beautiful. You can spend hours exploring the narrow streets with its shops and restaurants.
My recommendation: Go and explore Kotor after 5 p.m. as most cruises have left by then and you will get an authentic picture of the town.

More things to do in Kotor:
Climb the castle of San Giovanni
Go on a boat tour
Go on a trip to Perast (check out my Day 2)
Here you can find the best tours in Kotor:
Where to stay in Kotor:
We booked accommodation with Airbnb in Donji Stoliv which is a small fishing village close to Kotor. It was perfect to escape the crowds and to mingle with the locals. If you haven´t signed up for Airbnb yet. Here we go!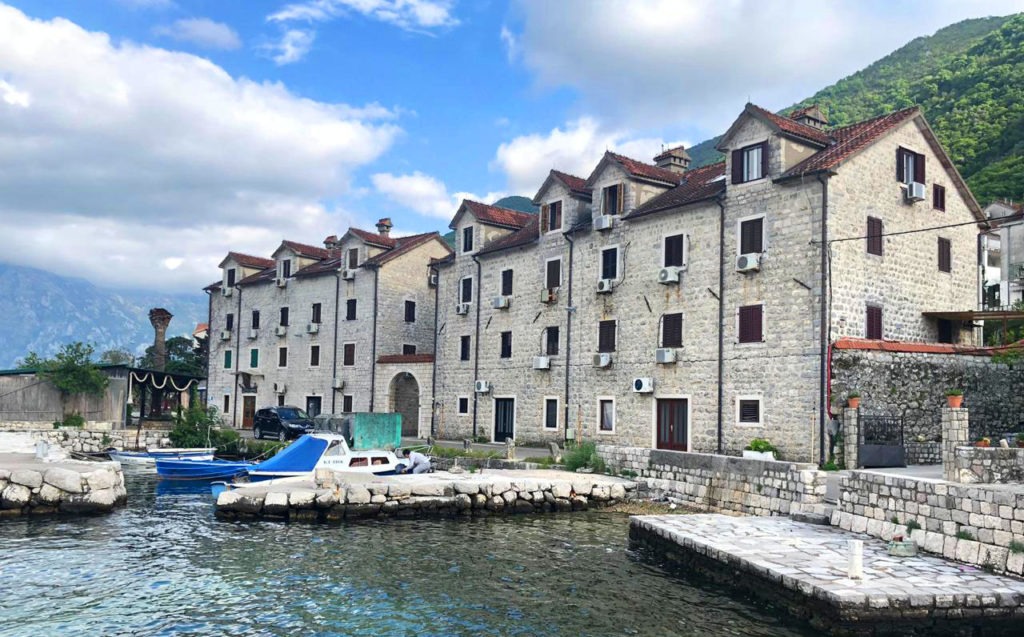 Exploring Risan and Perast – Bay of Kotor – Montenegro
Day 2
Since we went straight to Kotor the previous day, we wanted to go on a trip around the Bay of Kotor today. We took the Kotor Bay Ferry (Lepetani-Kamenari Ferry). This ferry is a shortcut and will save you lots of time. The ticket for the Kotor Bay Ferry is 4,50 EUR and there is always one going, so waiting time doesn´t really exist.
We stopped in Risan for lunch and explored Perast after that. Perast is a picturesque town and has only one main street. We took a walk passing renaissance and baroque places that were turned into fancy hotels and expensive restaurants. Perast is a perfect spot to enjoy the stunning Montenegrin scenery, which is made up of spectacular mountains, sapphire-blue waters, golden beaches and picturesque towns.
The two main tourist attractions of Perast are the islands "Our Lady of the Rock" and "St Georges Island Montenegro". You can explore them via a guided tour here.
Budva – Montenegro
Day 3
It was raining cats and dogs the day we wanted to explore another jewel of the Adriatic Sea: Budva. On our way from Donji Stoliv (where we stayed), we passed Tivat and Porto Montenegro. Porto Montenegro especially caught our attention. This area is on its way to becoming the new Monaco. It is a superyacht marina on the shores of the Adriatic Sea.
---
---
From Porto Montenegro it takes you another 30 minutes to get to Budva. This coastal town is famous for its beaches, nightlife and of course the Old Town of Budva. We spend an afternoon wandering around and exploring the narrow streets, cute shops and restaurants. At the harbor we got some nice fresh fish that we prepared for dinner at home.

You might also enjoy reading some of my Africa posts:
Calling all beach lovers! Here you can find a list of my favourite beaches in Malawi Africa....

  Would you like to dicover South Africa off the beaten track? Come and explore the KwaZulu Natal Province with me....
Trebinje – Bosnia Herzegovina
Day 4
We left Montenegro and headed to Bosnia Herzegovina. It took us 1 1/2 hours to get from Donji Stoliv (we took the Lepetani-Kamenari Ferry again) to Trebinje, a quaint town in the Serbian part of Bosnia Herzegovina. The drive from Montenegro to Bosnia Herzegovina was epic. We made our way through the spectacular mountains and stopped for some panoramic shots.
We crossed the border from Montenegro to Bosnia Herzegovina in Sitnica/Zupci without any issues and 30 minutes later we arrived in Trebinje. Here we had our first little challenge as we couldn´t find the address of our place to stay.  Our navigation system couldn´t find the name of the street, with our Bosnian SIM card we couldn´t make calls and the people we asked didn´t speak a single word English. Fortunately, I found someone who spoke English and knew the address we needed to get to. Finally, 1 1/2 hours later we arrived. In the afternoon we visited Monastery Herzegovacka Gracanica. This Serbian Orthodox Monastery is located on a hill above the city and offers a stunning view on Trebinje.
Trebinje, Lake Bileca – Bosnia Herzegovina
Day 5
Strolling through the streets of Old Town Trebinje, this was how our morning started. Since it was heavily raining again we decided to check out Bileca Lake in the afternoon. This huge artificial lake is hiding a submerged city on its bottom and attracts many divers.
---
SOON TO BE PUBLISHED: What to see and do in Trebinje
---
Mostar – Bosnia Herzegovina
Day 6
The ride from Trebinje to Mostar was scenic again. Mostar is located in the Federation of Bosnia and Herzegovina and after Sarajevo the most famous town of Bosnia and Herzegovina. This Balkan Road Trip turned out to become a mission for us. In Mostar it also took us a while before we found our place to stay. Our apartment was located 5 minutes away from one of Bosnia´s most famous sight the Stari Most, an old bridge. The town itself is way more busy than Trebinje. Since we got to Mostar pretty late we just ended off our day with some yummy traditional Bosnian food.
Mostar – Bosnia Herzegovina
Day 7
The morning we spent wandering through Old Town Mostar and finding the best spots to photograph Stari Most.
Since we were a bit exhausted from the previous days we didn´t do anything else but chill and get some Bosnian food. The Bosnian cuisine offers something for every taste. As a conclusion of our Balkan Road Trip, I can say that the food in Mostar was the best. It was super yummy and the rates descent. For 2 mains and 2 drinks we paid 15 EUR on average.
---
SOON TO BE PUBLISHED:

Where to eat in Mostar
---
Kravica Waterfalls – Bosnia Herzegovina
Day 8
On our way from Mostar to Neum we made a stopover at the famous Kracvica Waterfalls often referred to as Kravice Waterfalls. This waterfall system consists of about 20 waterfalls ending in a lake below. The lake and waterfalls are surrounded by fig trees and bushes. It actually felt a bit like being in the jungle. You can come here for picnic, camping, swimming, going on a canoe tour, rafting or just chilling in the little cafe next to the falls.
The entrance fee for Kravice Waterfalls is 8 KM and kids get in for free. My recommendation: take a walk down to the falls as on the way you can stop for some nice photoshoots. Don´t take the little train to get to the falls and back.
If you are not traveling by rental car it is a bit difficult to get to Kravice Waterfalls though.
Find the best tours to Kravice Waterfalls here:
Neum – Bosnia Herzegovina
Day 9
Looking at the map of Croatia and Bosnia Herzegovina you may have come across a small stretch along the coast that appears to be part of Croatia. In fact, it is part of Bosnia and Herzegovina. This 20 km stretch is the only access of Bosnia Herzegovina to the Adriatic Sea. The most famous town that is situated along that coast is Neum. We stopped at Neum for one night. That time of the year (May) was still super quiet so we could enjoy the chilled atmosphere.
From Neum it takes you about 1 ½ hours (the Adriatic Highway passes through the town) to get to Dubrovnik. Just the ride itself was an experience on its own.
We passed little islands, cute fishing towns as well as the Dubrovnik Bridge that offers a lovely view of the most famous city in Croatia.
You might also enjoy reading some of my posts about Germany:
Quarkkeulchen is one of my favourite German food. In this post I am going to share my super yummy Quarkkeulchen recipe with you....

Locals recommend their favourite hotspots and hidden gems in the upcoming city of Leipzig....
We stayed in an Airbnb in Mlini for 2 nights, which is a 10 minutes drive from Dubrovnik, way cheaper and more chilled than staying in the city itself. After getting to our accommodation, we took a walk along the beach promenade in Mlini and ended off our day with chilling on the balcony of our apartment.
Dubrovnik Old Town – Croatia
Day 10
A most famous attraction in Dubrovnik is Old Town. We spend the whole day wandering around Old Town, taking pictures and watching the crowds pass. Since I was a bit shocked by the crowds of tourists in Dubrovnik I am not going to compile more information on Dubrovnik. Please read the following note:
A small note on Kotor, Dubrovnik and Responsible Tourism 
Dubrovnik is the most famous city of Croatia and became even more famous due to the Game of Thrones hype. I have to be honest, I haven´t seen a single episode of it and the series wasn´t my reason for going there. It just fits well in our itinerary to start and finish our trip in Dubrovnik. Before I went, I watched a documentary about the city.  They showed that millions of tourists coming to Dubrovnik every year.
With that being said I would have never imagined how terrible it actually is. We got to the City Walls of Old Town Dubrovnik and they had to split the entrance/exit to handle the crowds. 7 – 8 cruises stopping in the city every day, countless buses bringing more people, thousands of tourists making their way through Old Town every single day. Although everything is already super expensive it seems like it is not stopping the people from coming. Undoubtedly, Dubrovnik is beautiful. Everything is maintained really well and the list of things to do are endless.  Of course, tourism is creating more jobs and new business can develop.
Don´t forget to pin my post for later:
At the same time, the negative impacts of overtourism are immense:
Tourists polluting the air, town and water
The cruises affecting the diversity of nature in a negative way
The local's can´t afford to live in the city anymore
….
I know there are way more cities and countries suffering from the same problem. However, it was actually my first encounter with overtourism and it made me think and really sad at the same time. I realized once again, why I prefer my off the beaten path destinations and especially Africa.
What can you do to travel responsibly?
Travel to destinations that are off the beaten path
Buy from locals
Discover off the beaten track sights
Respect the locals and their culture
Have you been to a city or country that has been negatively affected due to tourism? What is your contribution to combat overtourism? Please let me know in the comments!
You might also enjoy reading my posts about Kenya:
Read my Kenia Travel Guide before traveling Kenya in East Africa. My Guide will provide you with everything that you need to know....

This Naiobi Guide lists my favourite things to do in Nairobi, provied tips on the city and will show how you can spend one day....
Don´t forget to check out my Balkan vlog:
[Disclaimer: This blog post contains some affiliate links. Once you purchase something, I may earn a small commission at no extra cost to you. This tiny commission will help support my blog hosting and other maintenance costs. All my opinions are my own and were not influenced in any way. Thank you!]