21 day South Africa Tour – from Johannesburg to Cape Town
11 official languages, a stunningly beautiful landscape, super charming people and one of the best safari destinations in the world – explore the rainbow nation South Africa.
Explore South Africa over a 21 day tour, visit the beautiful Cape Town beaches and tour the Kruger National Park. Take in the nightlife in Durban then cruise down the coast visiting the best small beach towns South Africa has on offer.
South Africa has been my home for almost 3 years now and I have explored this country a lot. For everyone that hasn´t visited my second home yet, check out this amazing 21 days South Africa tour (which can also be split in 3 separate weeks), that friends of mine offer:
What makes this South Africa tour unique:
Join expert guides and a group of other adventurous travelers and explore South Africa´s most exciting and unique spots. When you become part of this tour you stop being tourist, you become local. The tour operator has the friends, memories and close relationships with local suppliers to take you on an unbelievable journey. You participate in your holiday and thus leave feeling enriched. On this road-trip style journey you create those unforgettable real moments.
You create memories when you:
discover a hidden stunningly beautiful beach that only locals know about
go on a village tour and meet the people in a real South African village
visit and assist at a soup kitchen in the local township
walk in the footprints of a buffalo
hike the 2nd highest waterfall in the world
learn how to cook a local dish in a local mud-hut kitchen
experience a homestay in a local Xhosa family home
and more..
Itinerary 21 Days in South Africa Tour:
Day 1: Departure Johannesburg 
| 

South Africa

At the crack of dawn you leave the City of Gold Johannesburg and make your way to Kruger National Park. You will pass Long Tom Pass, Pilgrim's Rest, God's Window and of course Blyde River Canyon. The following two nights you will have the full bush experience at Thornhill Safari Lodge where you have to hunt for you dinner (#jokes). You will spend some awesome time with the African Big Five under the African starry sky!

Included:  dinner
Day 1 – 3: Kruger National Park
| 

Hoedspruit

Thornhill Safari Lodge is hidden in the bushveld of Mpumalanga.  All African round-style cottages are en-suite and breakfast, lunch, high tea and African Dinner will be prepared for you and your group. During the day and also some hours at night you will spend in the bush. Big Five game drives, bush walks and the general spotting of animals will take away your breath. Otherwise jump in the cool pool with a beer waiting for you at the bar or sit back and relax with a fantastic view of the Drakensberg Escarpment!

Included: breakfast, lunch, dinner, Big5 Safari, full day Kruger Park Safari, bushwalk
Day 3 – 5: Ezulwini
| 

Swaziland

Day 3 is where you change countries. From South Africa you make your way to the Kingdom of Swaziland. You drive through the Barberton Nature Reserve, Mountainsland Nature Reserve and pass through the Songimvelo Nature Reserve and the capital of Swaziland, Mbabane until you arrive at the next backpackers in Swaziland – Lidwala Backpacker Lodge. This stylish backpacker fullfills all criteria of an eco-run tourism business (solar heating system, own vegetable garden, strict recycling etc.). Day 4 offers local education: The Lobamba Village Tour will teach you about the local history, show you the National Museum of the Kingdom and the royal residence of the King of eSwatini. The rest of the day is up to you to explore the surrounding area or whatever you want to do.

Included: Lobamba Village Tour, breakfast, dinner
Day 5: Royal Natal National Park 
|

Drakensberg Mountains

Early in the morning you leave the Kingdom of eSwatini towards the escarpment of the Drakensberg Mountains. Your next stop is a backpackers in the Drakensberg Mountains with an exceptional location – Amphitheatre Backpackers.

There are plenty of activities in the Drakensberg Mountains:
Tugela Falls – the highest waterfall in Africa
Rock climbing
Horse riding
Mountain biking
Fly-Fishing
An absolute highlight is the included Amphitheatre Hike (Tugela Falls).  In case you have other plans for the day (but let's be honest here, you don't wanna miss that) you are more then welcome to stay at the hostel and go for another fun optional activity.
Included: Amphitheatre Hike, African Braai Dinner Day 5, breakfast, dinner
Day 7 – 8: Durban
Today you make your way to the Indian Ocean and Durban, the 3rd largest city in South Africa. Here you stay for one night in a really cool backpackers in Durban, at Happy Hippo Backpacker. What to do in Durban? Well, there are many options.
You can:
Check out the Durban Beachfront
Go for some shopping
Enjoy some fresh fish at the Durban Waterfront
Watch some Rugby at the Stadium
Chill at the hostel at the rooftop bar
Night life in Durban is mainly happening at the famous Florida Street with its many bars, clubs and restaurants which offer amazing local flavours or international cuisine.
Included:   breakfast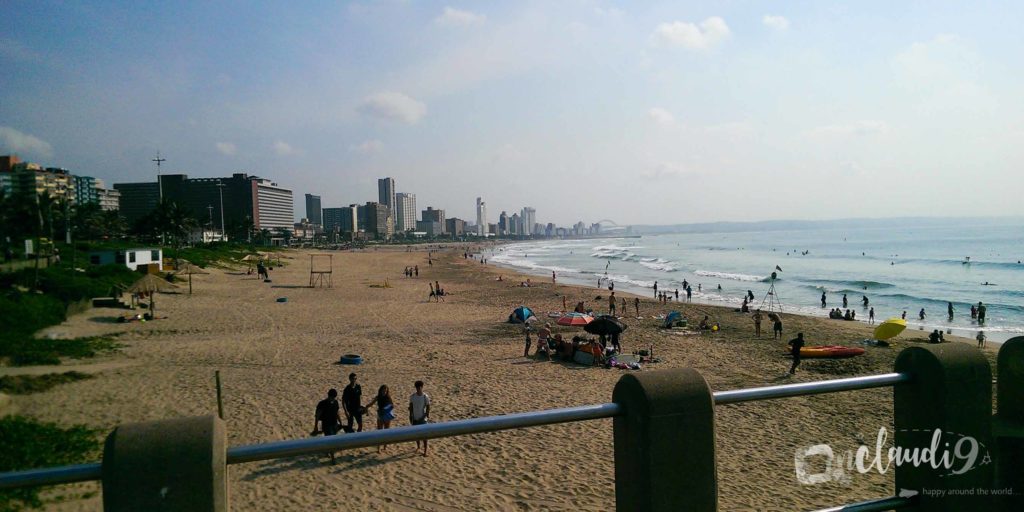 Day 8 – 10: Umzumbe
Next stop is Paradise. After a short drive of about 1 hour you arrive at one of the top spots on the Southcoast – Mantis and Moon Backpacker! Imagine a tropical jungle-like garden with a stunning rock pool in the centre. The en suite rooms are tree houses and the Jacuzzi is already waiting for you. The bar is extended into a little casino which gives you the chance to win some cash from your fellow travellers. The beach is located 2 minutes away from the backpacker, so it's super convenient to quickly check the surf.
On Day 9 you can go on an optional tour to Oribi Gorge, which is just 25 km away and is home to one of the deepest gorge swings in the world. But even if you're not in the mood for that, there are plenty of other activities like:
Beaching
Surfing
Diving
Fishing
Spotting dolphins or whales with a cold beer in your hand from the sundeck of the hostel 🙂
After a really exhausting day in paradise you end off your day with a fantastic African dinner.
Included: African braai, breakfast, dinner
Day 10 – 13: Coffee Bay
Today you head to the Heartland of the old South Africa to a region called Transkei. What makes this region special is the fact that it kept its rural charm with soft hills, which stretch right to the Indian Ocean. Final destination is a backpackers in Coffee Bay: Coffee Shack Backpackers. It is one of the leading backpacker hostels when it comes to sustainable tourism in South Africa. It is truly AFRICAN TIME in Coffee Bay: You will explore, surf, relax and spend time with the local Xhosa people. Day 11 or 12 can be used to the Hole in the Wall hike along the Indian Ocean, which is included in this South Africa tour. Otherwise, why not chill in the hammock with songs of Bob Marley in the background and stare at the ocean.
Included: Hole in the Wall Hike, breakfast, dinner, homestay with a local Xhosa family
Day 13 – 16: Chintsa West
Your next destination is the Lagoon of Chintsa. The one and only legendary backpackers in Chintsa – Buccaneers Backpacker is your stop for the next 3 nights.  The hostel has an amazing pool house area with attached volleyball field (free wine will be provided for the games in the afternoon), a yoga and massage cottage and of course a fully stocked bar with a mindblowing view over the whole lagoon and 50km of beach stretching in front of your eyes. Activities in Chintsa are endless:
Game watching across the road
Horse riding at the beach
Surfing
Mountain biking in the local area
Walking along the endless white sand beach
…
Included: breakfast, dinner, optional soup kitchen visit in the local Township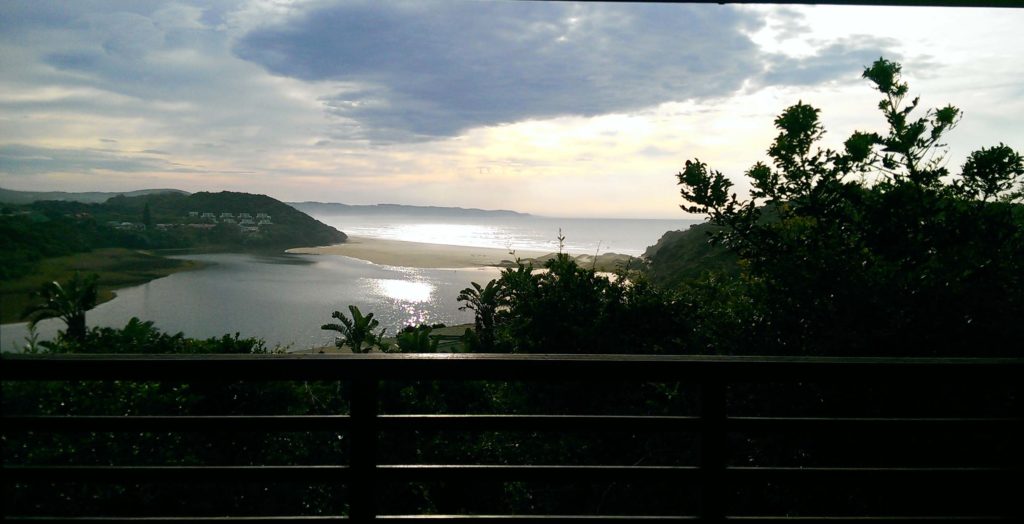 Day 16 – 17: Jeffreys Bay
Your next stop is the surf mekka of South Africa – Jeffreys Bay. You will stay right at the beach again, at Island Vibe Backpackers, the coolest backpackers in Jeffreys Bay.  There you find the typical laid back surfer style. Jeffreys Bay offers various surf outlet factory shops ranging from Billabong to Quicksilver to Roxy etc. so that you can use the rest of the day for shopping stylish clothes for low prices.
Included: breakfast, dinner, optional township tour
Day 17 – 19: Storm's River
| 

Tsitsikamma National Park

Storms River Village is your next stop, where you stay at Tube'n Axe Backpackers. The Village is located in an area which is still blessed with indigenous forest which existed long before the first settlers set foot on the African continent.

You can choose from a range of activities at Tsitsikamma National Park:
Bungee Jump at Bloukraans Bridge
Waterfall Zip Slides,
Canopy Tours
Snorkeling
Mountain Biking
On day 18 you hike the Otter Trail along the rocky shore coastline to a waterfall dropping into the Indian Ocean. To refill energy levels, you enjoy another legendary African Braai, yummy!
Included: African braai, Storm's River Mouth Tour (Tsitsikamma National Park), breakfast, dinner
Day 19 – 20: Oudtshoorn
After breakfast you make your way to the Little Karoo – a semi-desert. In Oudtshoorn (the unofficial international capital of the Ostrich) you stay for one night at Backpackers Paradise from where you can either use the day and explore the world famous Cango Caves in Oudtshoorn or visit an Ostrich Farm. If you need an adrenaline boosting activity you can also go on a crocodile cage dive. The backpackers in Oudtshoorn is directly in town so restaurants, bars and movies are in walking distance.
Included: breakfast, dinner
Day 20 – 21: Mossel Bay 
| 

Ruiterbos

For your last night you stay at Outeniqua Moon Farm in Outeniqua Mountains. Peter and Christine Watt committed themselves to save the Percheron, heavy and beautiful draft horses. Your stay here is the perfect time to sit back and relax at the pool with the view of the Outeniqua Mountains in the background. You have en suite room and are fully catered by Chrissie and her cooking skills. If you keen, you can also have a personalised horse experience with the giants. The evening you sit with your fellow travelers around the fireplace and enjoy a homecooked dinner with the sunset over the mountains.

Included: breakfast, lunch, dinner, Horse Experience
pic – credited to Lydiane – Autour du Monde
Day 21: Cape Town via Stanford and Hermanus
Today you make your way to Cape Town, the Mother City of South Africa.  En route you stop off for some whale watching in Hermanus (in season from May – December) and to look at the penguins at Stony Point in Betty's Bay (they are there all year round).
Your last stop and hence the final is Ashanti Backpackers. This legendary backpackers in Cape Town is one of the best places to stay in the Mother City. You should extend your stay in Cape Town for at least another three days to explore everything the city has on offer.
Top Things to do in Cape Town:
Hike Lions Head
Climb Table Mountain
Go on a wine tour to the Cape Winelands
Chill at the beach
Visit Cape of Good Hope
Chill at Kirstenbosch Botanical Gardens
Go on a Shark Cage Dive
Visit Robben Island
…
Included: breakfast
Inclusions:
Organisation of pre-tour nights at Curiocity Backpacker as well as airport pick up from O.R Tambo (R 300, – per person for transfer)
2 days Greater Kruger National Park with 1 private Game Drive, 1 Full Day Kruger & Bush walk (fully catered with all meals)
Lobamba Village Tour/ Ezulwini Valley – eSwatini (lunch included)
Tugela Falls Hike (2nd highest waterfall in the world) (lunch included)
Hole in the Wall Hike – Transkei (lunch included)
Storms River Mouth Tour – Tsitsikamma National Park (waterfall hike)
Horse interaction – Outeniqua Moon Percheron Stud & Guest Farm (fully catered)
Professional guiding, transport & accommodation
3 x African braai
Excluded:
breakfast, lunch & dinners if not stipulated in the itinerary
optional activities
curios and crafts
any airport transfers
travel insurance
any international or domestic flights
Current Dates of this South Africa tour:
2019
03.02. – 23.02.
07.04. – 27.04.
02.06. – 22.06.
07.08. – 27.08.
06.10. – 26.10.
01.12 – 20.12.
2020
02.02. – 22.02.
05.04. – 25.04.
07.06. – 27.06.
02.08. – 22.08.
04.10. – 24.10.
06.12 – 26.12.
About the tour operator:
Fully registered and licensed South Africa tour operator with more than 15 years of experience

Accredited with SAYTC, Reisenetz e.V and SATSA in South Africa
Rates 2018/2018:
ZAR 31 950, – DORM      (max. 4 – 6 sleeper shared rooms)
ZAR 36 950, – EN SUITE (single/ double bed with own bathroom facilities)
ZAR – South African Rands
OnClaudi9 Discount:
You would like to become a part of the explorer team and join this amazing South Africa Tour or would like more information?
Then quickly drop me an e-mail to: hello@onclaudi9.com
I will put you in touch with the tour operator and will send you a Promo Code for a 10 % discount once you book.
[Disclaimer: Please note I only recommend tours that fit my travel philosophy, that are run by people I know or that I have done myself. I may earn a small commission at no extra cost to you once you get linked to the tour operator through me. This tiny commission will help support my blog hosting and other maintenance costs. All my opinions are my own and were not influenced in any way. Thank you!]