My South Africa Road Trip
Join me on my 2 week Road Trip in South Africa and get to know the beauty of South Africa.
On the must-do list of most South Africa tourist´s, you can find the Garden Route. I have listened to different stories. A few people said traveling the Garden Route is an amazing trip, others said its all about tourism and has nothing to do with the real South Africa. A friend advised me to go further east to actually experience this beautiful country, that´s where I found some of the best places to visit in South Africa. As I had two weeks to spend I decided to go on a road trip in South Africa from Cape Town to Durban to find out for myself what is true.
HERE YOU WILL FIND RELATED CONTENT FOR YOUR SOUTH AFRICA TRIP:
There are several ways of getting around South Africa:
Baz Bus – Baz Bus Accommodation
For those looking for a convenient way to travel South Africa, in my opinion, Baz Bus is a good choice. It is a bus mainly used by backpackers. The bus stops at a bunch of hostels and enables you to hop on and hop off anytime and anywhere.
Baz Bus ticket options here.
Another benefit is that you meet people from all over the world while traveling. The Baz Bus drivers are super friendly, entertaining and welcoming. Additionally, they understand themselves as a sort of tour guide and provide information about history, culture and the landscape of South Africa.
Guided Tours in South Africa:
Do you enjoy traveling in a small group of like-minded people? Then check out these Tours:
South Africa´s wine history dates back to 1659. Join me on my favourite vineyard tour through the Cape Winelands and experience a broad spectrum of iconic estates and local wineries....

11 official languages, a stunningly beautiful landscape, super charming people and one of the best safari destinations in the world – explore the rainbow nation South Africa....

Explore South Africa´s most amazing spots on a 8-days Discovery Tour and join a group of like-minded travelers....
Public Transport in South Africa:
Another company I can honestly recommend to get around in South Africa is Intercape. The busses going alomost everywhere, are super modern and I always felt safe. I even went with them to Namibia as they cover different routes in Southern Africa. It is also the go to service for road trips from Cape Town to Johannesburg.
---
---
Rental Car:
If you are planning to do this trip with a rental car then check out Rentalcars. They check all the top car hire companies at over 53.000 locations to find the best deals for you:
My Trip Itinerary South Africa:
Sedgefield South Africa – Garden Route Itinerary 
First stop for most tourists traveling the Garden Route is Mossel Bay. It´s a cute city about four hours east from Cape Town. A definite tourist attraction is the train hotel "Santos Express" It is a train right on Santos Beach that has been turned into a hotel. The beach is perfect for a swim as there is not such a strong current. For those looking for a smaller village and a bit more peace and relaxation I would recommend to go further east and to stop at Wilderness or Sedgefield. These villages offer stunningly beautiful beaches and an outstanding landscape. Swimming is a bit dangerous though due to a strong current and the tides. I stayed over in Sedgefield for one night. My hostel Pili Pili is situated on Myoli Beach— 14 km of unspoilt beach. Either you go for a long beach walk, a run, take a surf lesson or book one of the day trips they offer. Besides that, this place is perfect to just relax. Meeting new people is easy in their inhouse restaurant, which is next to the hostel and provides delicious food and drinks. In fact, I had one of the best pizzas in South Africa there!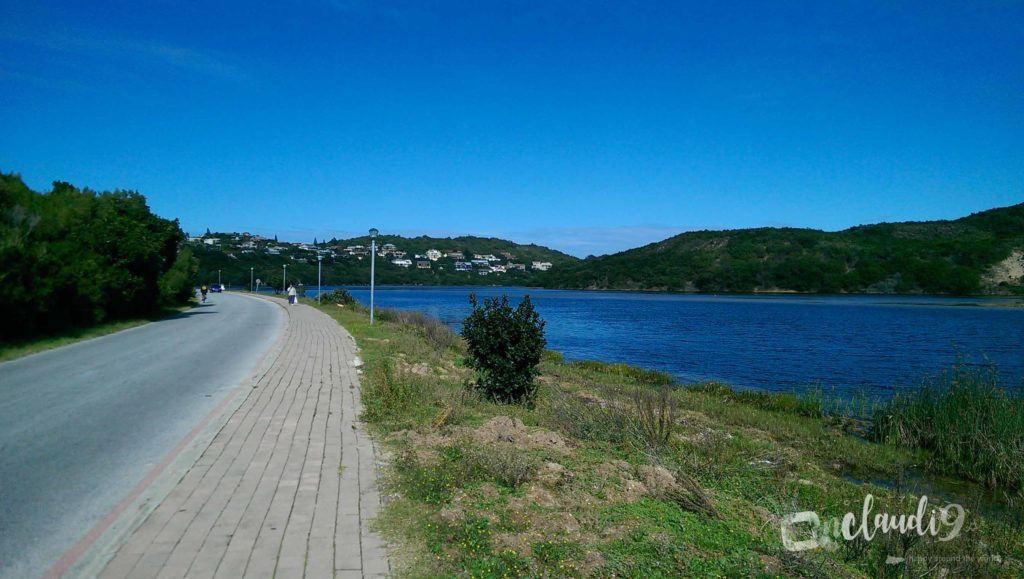 The Crags – Garden Route
One of the most popular things to do in The Crags is not for the faint hearted. 214 meter of pure adrenaline. The highlight – 15 minutes away from my second road trip South Africa stop "The Crags" – is definitely the Bloukrans Bridge. With 214 meters it is the highest bungee jumping bridge in the world. Surrounded by the vibes of African house music I was number one to jump from our group of 15 people. It was an incredible feeling. I spent 2 nights at the hostel "Wildlife Spirit Lodge". The name already says it all, I think. "Wildlife Spirit Lodge" is situated in the heart of the Garden Route and the Tsitsikamma National Park. It is surrounded by indigenous South African forests, pristine beaches, waterfalls and mountains. A must stop for nature lovers. Besides that, the hostel is the perfect spot to start your hiking experience from. My recommendation: don't miss The Big Hike at Natures Valley – insanely beautiful.
Do you already follow me on Instagram?
Jeffrey's Bay – Garden Route
The surfer´s paradise – Jeffrey's Bay. "Jay Bay" was the place where I wanted to catch my first wave. Learning how to ride a surfboard like a professional was my ultimate plan. Eventually, I ended up not taking my lessons in Jay Bay. Why, you ask? Well, my hostel "Island Vibe", their amazing staff and the new friends that I made had other plans: Party, Party, Party. The hostel has an amazing vibe, beer pong is on every single day and that means you are hungover most of the time. If I hadn't have planned my next pick up with Baz Bus, I would have been happily 'stuck' there for days. That is what happens to most road trip South Africa tourists in Jay Bay. Besides that, whilst you are in Jay Bay don't miss out on the bargains in one of the Billabong outlet stores- you won't be sorry.
Port Elizabeth – Eastern Cape
Located about an hour away from Jeffrey's Bay, you'll find Port Elizabeth. As one of South Africa's biggest cities, PE is also pretty much the end of the Garden Route. We arrived in the friendly city at 10 p.m. and I had to leave with the next bus at 6 a.m. in the morning. That´s why I didn´t really have time to explore PE. My hostel "Lungile Backpackers" is located in a safe area about 5 minutes away from the beachfront.  At the beachfront you will find lots of bars, restaurants, clubs, the main beach and more fun things to do in Port Elizabeth. PE is also the gateway to the game reserves of the Eastern Cape. The most famous one is "Addo Elephant Park" but there are many other remarkable reserves in this region. Don´t forget to stop at one of them. They offer some incredible wildlife experience.
Things to do in Port Elizabeth South Africa:
Visit Red Location Museum (Apartheid museum in the New Brighton township of PE)
Party at the Beachfront, Central and Walmer
Catch a wave at Humewood (famous surfing spot)
---
Here you can designs your own South Africa Trip:
---
Visiting Chintsa in  the Eastern Cape
Finally, we left the Western Cape and we were on our way to another side of South Africa. Famous sites in the Eastern Cape are the colorful round huts. We passed small villages with about 20 huts but also bigger towns. People, cows and chickens walked on the streets. Our driver stopped in the middle of nowhere dropping off 20 loaves of bread for a family he helps with food. About 30 adults, children and animals waited for us to arrive. 3 and a half hours further east from PE we arrive in the 'real' South Africa- something I had been waiting for , for so long. Chintsa was my first stop in the Eastern Cape and about 40 km away from East London. Welcoming me from the balcony of my Backpacker/ Lodge Buccaneers was a breathtaking view of the endless beach and the lagoon.
At "Buccaneers" I met Asanda, a Xhosa woman. She worked for the hostel. From a last minute decision, she joined me on my way to Durban. Later on, she moved to Cape Town and is still one of my best friends. Would you like to read more about Asanda?  Then click here and "Meet Asanda"!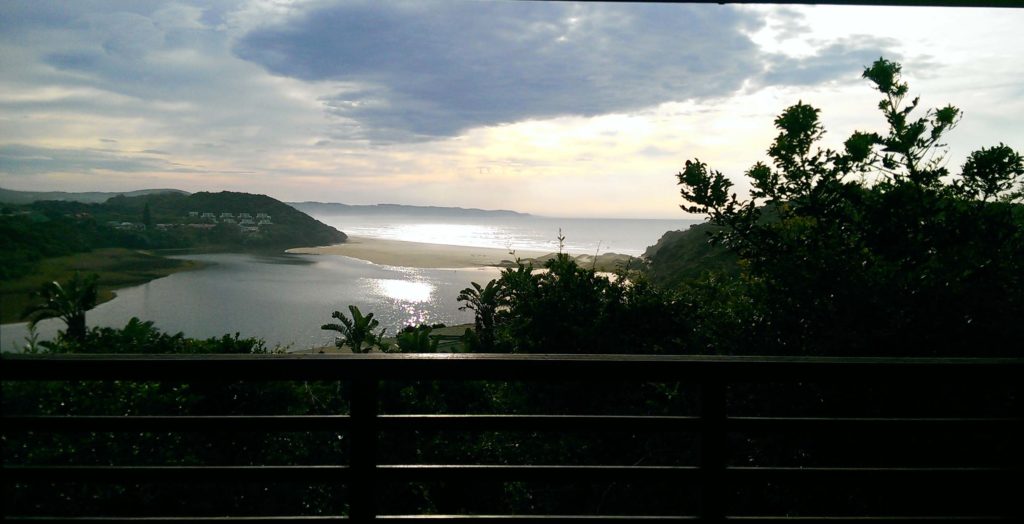 Coffee Bay Attractions – Eastern Cape
One of the highlights of my road trip South Africa was Coffee Bay. I heard great things about the town in the Eastern Cape and was super excited to finally get there. On our way, we were surrounded by incredibly beautiful nature. Whoever thought Chintsa as being in the middle of nowhere was wrong. I reserved the title for Coffee Bay. We had 5 more minutes to go to Coffee Bay – the streets weren´t even tarred anymore. Oh, you thought Coffee Bay is famous for its coffee? Then you are wrong. Coffee Bay got its name from a cargo ship that ran ashore and scattered beans which grew to coffee trees all over its landscape.
You might also enjoy checking out my Language-Guides:
Chichewa is the most spoken language in Malawi Africa. Check out my language guide and learn Chichewa for your trip....

My South Africa Language Guide lists important South African words and phrases that you will need for your South Africa Trip....
Things to do in Coffee Bay:
Coffee Bay itself is a small village surrounded by the incredible landscape of the Eastern Cape. Here, I did one of my best hiking experiences the "Hole in the Wall" hike. The hike itself is four hours and it offers you the most stunning landscape of the Eastern Cape. Definitely, a must do Coffee Bay activity. The small village on the Indian Ocean is famous for surfing too. In my hostel "The Coffee Shack" they offer the cheapest surf lessons I have found so far. A two-hour lesson including wetsuit and board for just R 50. One more thing I loved about the hostel were the free mussels and oysters they give to their guests every evening.
One more advice: The Coffee Shack organizes cultural experiences. You can do a homestay with a Xhosa family or join a traditional dinner with a Xhosa family. Both activities are great to get to know the people and their culture. Don´t hesitate and go for it.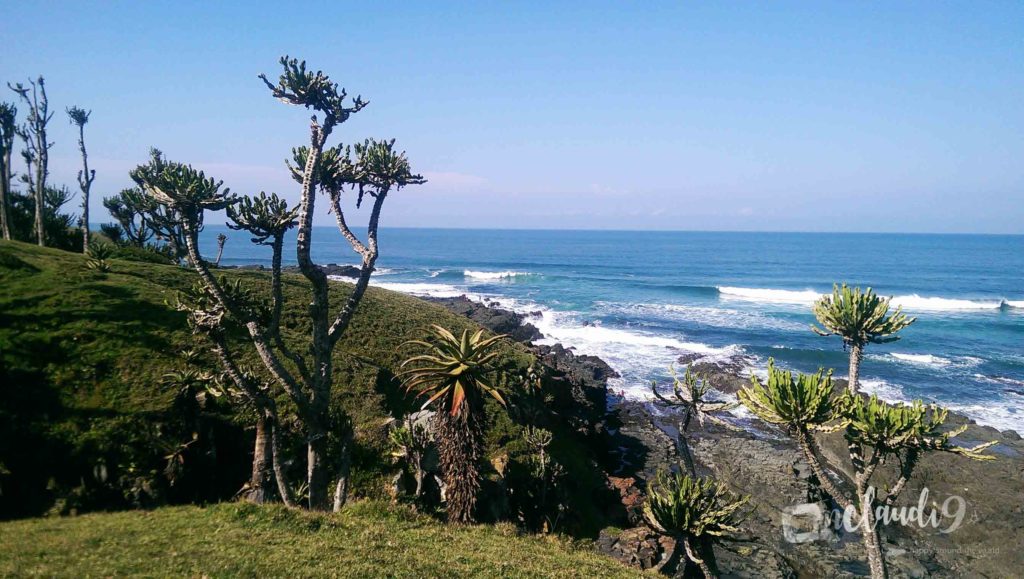 Durban – Kwa Zulu Natal
From Coffee Bay to Durban it took us another 8 hours by Baz Bus to get there. My hostel "Happy Hippo" is just 5 minutes away from the endless uShaka Beach. If someone would have taken me to that beach without telling me where we are I would have assumed I am in Miami. The beach promenade got many bars, restaurants, surf shops and skyscrapers in the back, that´s why Durban reminds me of the city in Florida. Actually, Durban is more Indian influenced. Durban! Indian? Exactly, because Durban has the largest Indian population outside of India in South Africa. When it comes to traditional food, you have to try Bunny Chow while you visit Durban . I ate this loaf of bread which is either filled with chicken, beef, beans or fish curry many times and I loved it.
You might also enjoy checking out my Travel Guides:
Here are my recommendations of things to do in Durban:
Visit Aquarium uShaka Marine World (largest aquarium in the southern hemisphere)
Eat some good seafood at the Durban Harbour
Shop at the Eastern Spice Market
Party in Florida Street
Do some watersport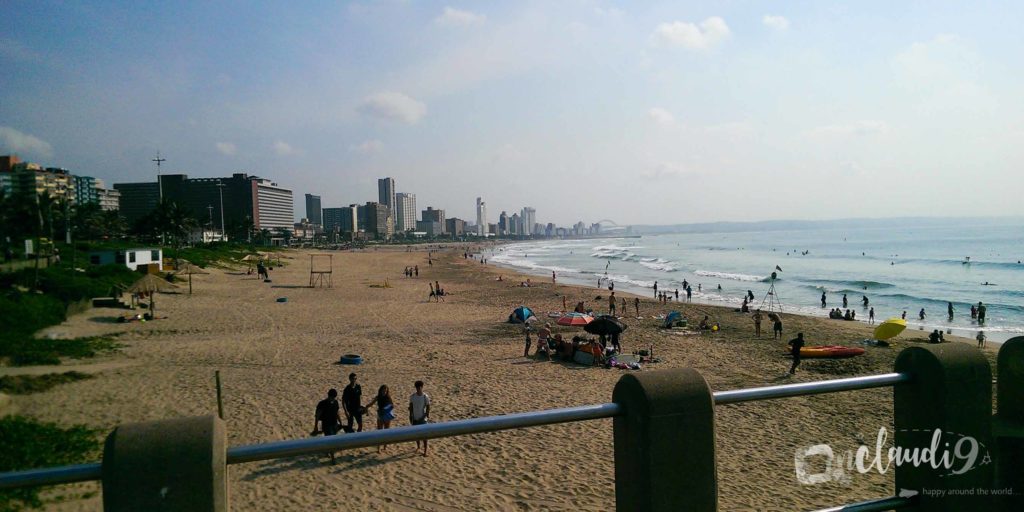 ---
---
My opinion:
Indeed, the Garden Route is beautiful but it is really touristy. For those who are keen to get to know the real South Africa, my advice is to go further or all the way from Cape Town to Johannesburg. However, the trip I did to Durban is totally worth it too.
Have you been to Eastern and Western Cape? What is your opinion? Let me know in the comments!
Don´t forget to pin my post:
You might also enjoy reading about my Africa Trips:
Calling all beach lovers! Here you can find a list of my favourite beaches in Malawi Africa....

  Would you like to dicover South Africa off the beaten track? Come and explore the KwaZulu Natal Province with me....
[Disclaimer: This blog post contains some affiliate links. Purchasing something may earn me a small commission at no extra cost to you. This tiny commission will help support my blog hosting and other maintenance costs. All my opinions are my own and were not influenced in any way. Thank you!]